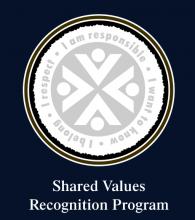 JUNE 21, 2021 -- The Regina Board of Trustees and Regina Public Schools are very pleased to announce and congratulate the recipients of the 2021 Shared Values Recognition Program (SVRP) award.
These 10 recipients were nominated by their colleagues and their school community because of how they exemplify the Shared Values: I am responsible; I want to know; I belong and I respect.
Recipients were chosen by a selection committee comprised of the Board of Trustees.
Congratulations to the 2020-21 Shared Values Recognition Program award recipients, and thank you to all those who took the time to send in nominations. Your participation makes the SVRP possible.