MARCH 17, 2022 -- Regina Public Schools is committed to the mental health and well-being of all employees and students. The school division and the Regina Board of Education place a priority on diversity as critically important to our students, staff and culture. In the fall, a number of staff at Division Office, as well as the Mental Health and Well-Being Working Group, identified that the long north hallway was a blank canvas that needed to be bright, inspirational/morale lifting, diverse, inclusive and reflective of Regina Public Schools' Shared Values, mission and priorities. As a result, the staff formed a committee and set the wheels in motion for a collaborative word collage, various Shared Values logos and a wall mural. After much research, Kevin Pee-ace was commissioned to create the mural, and both staff and students were invited to provide suggestions for content.
Using an organic acrylic paint, Kevin started the mural on March 7th and completed it on March 11th. His progress was made faster with the assistance of his two nieces.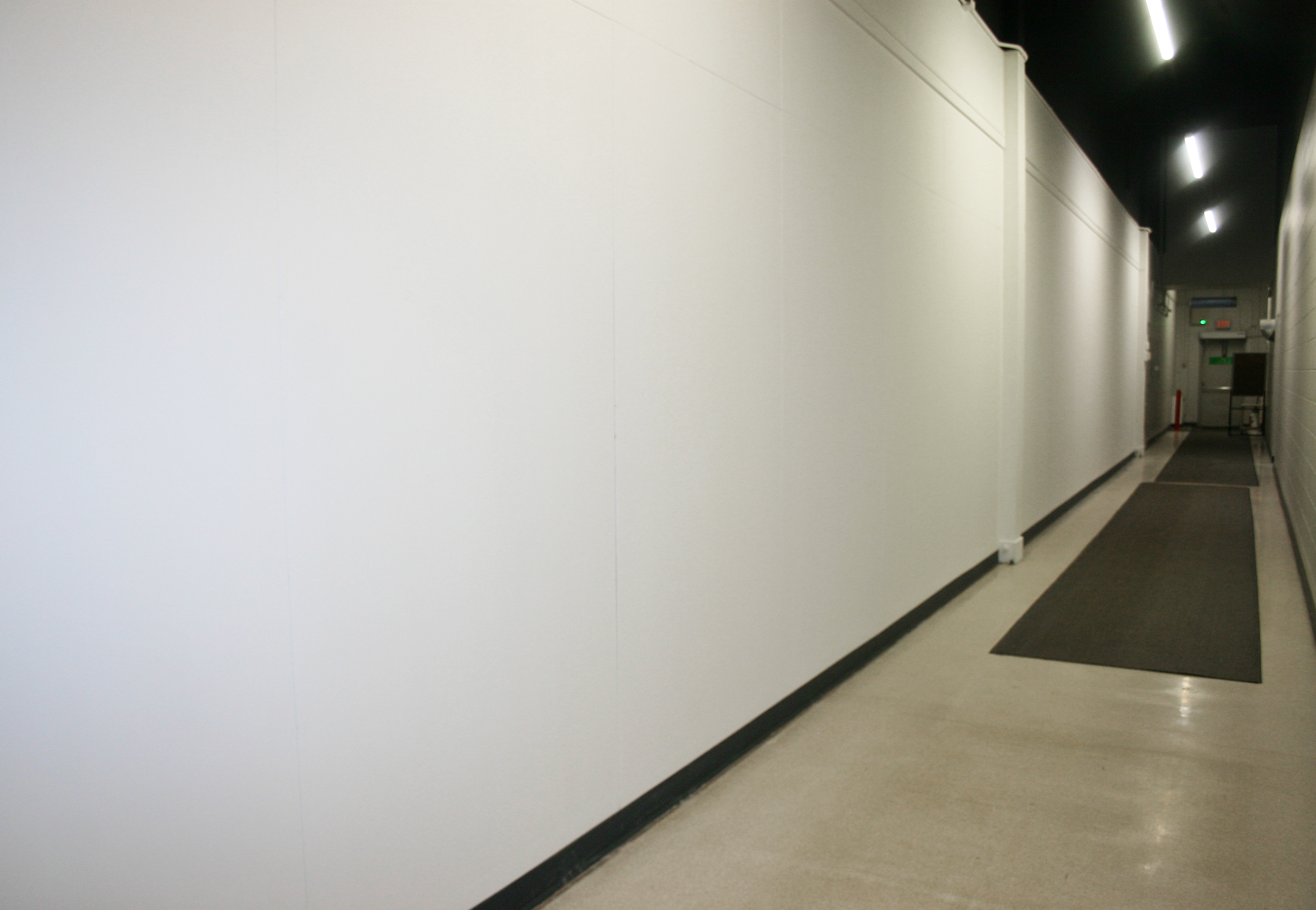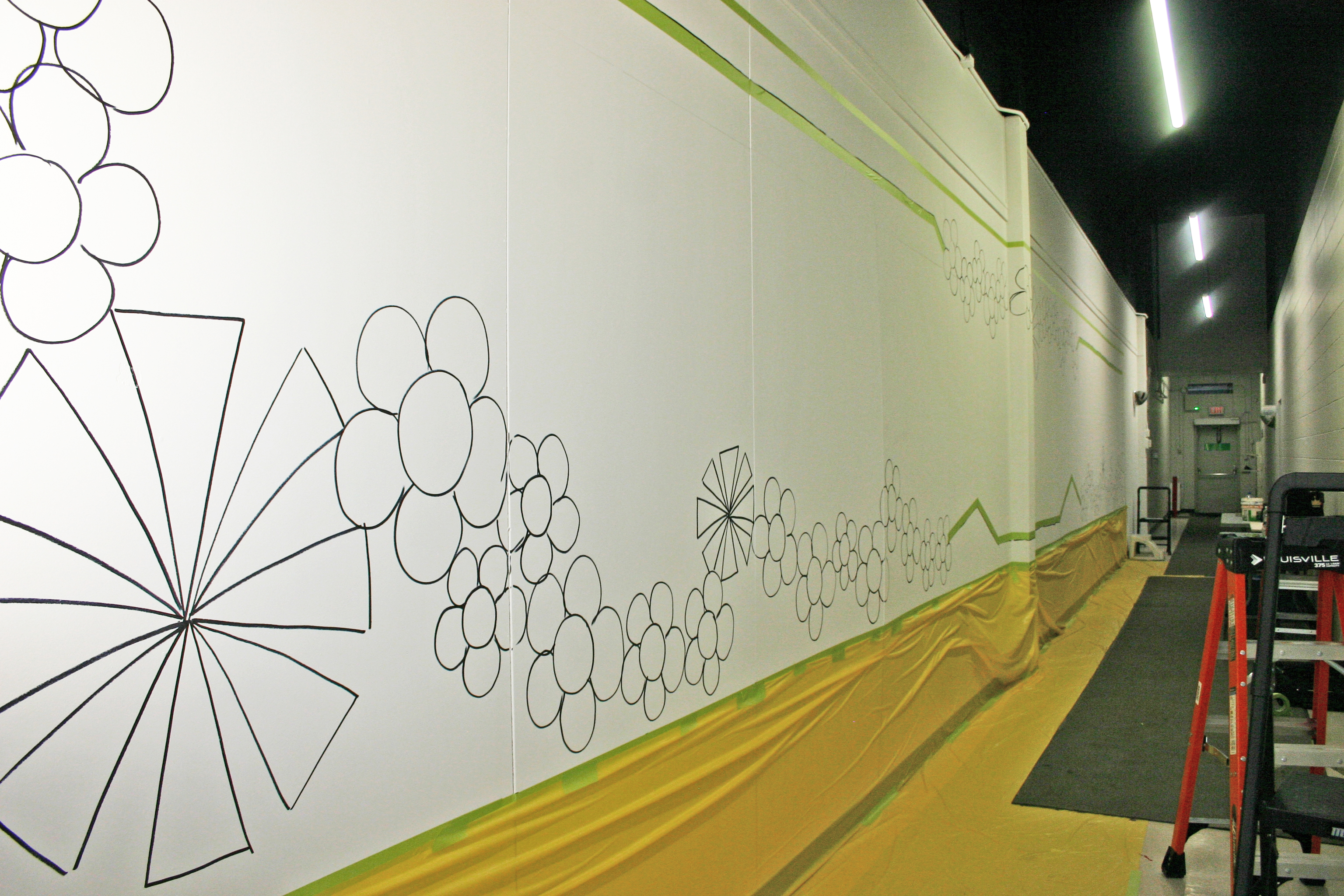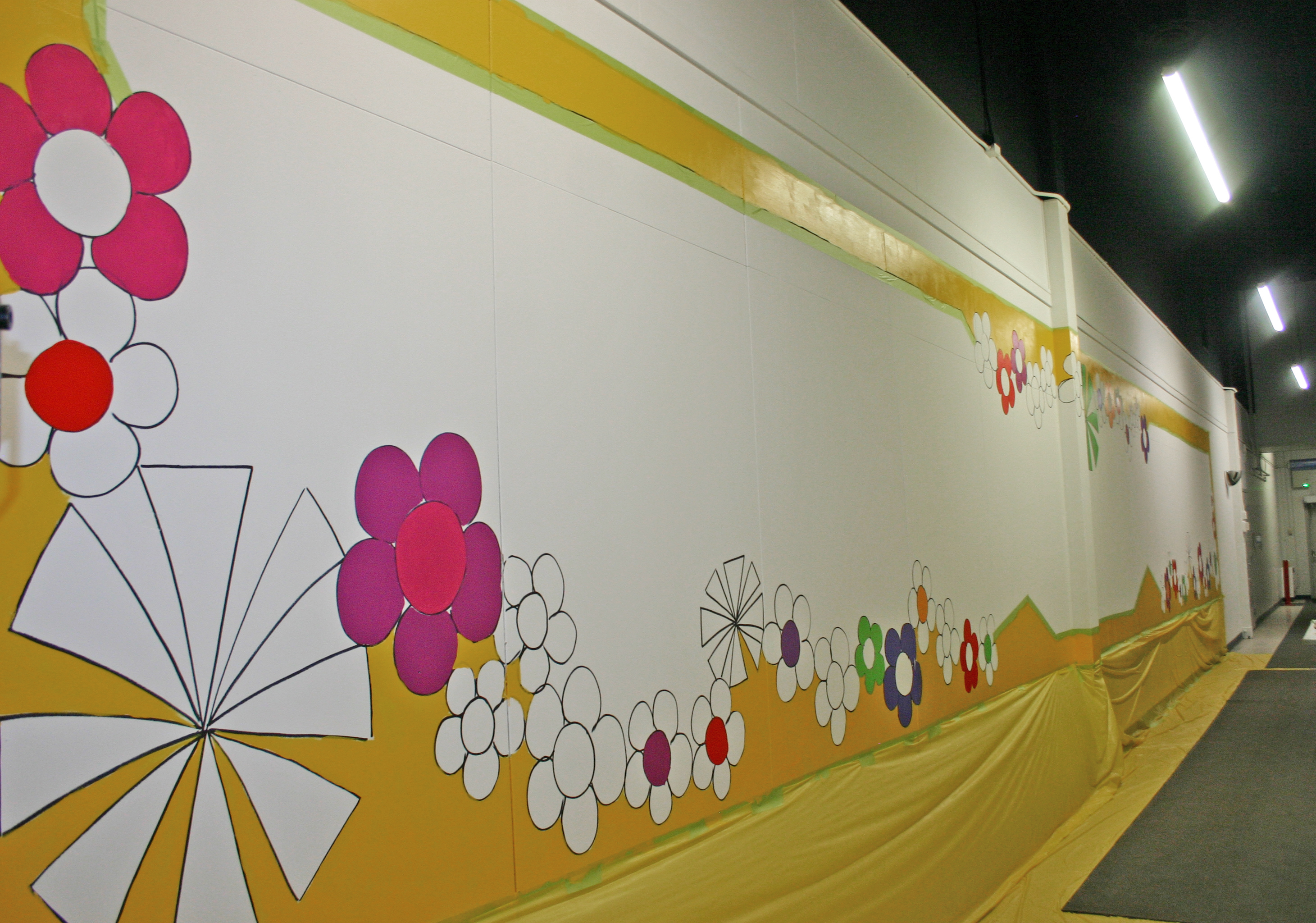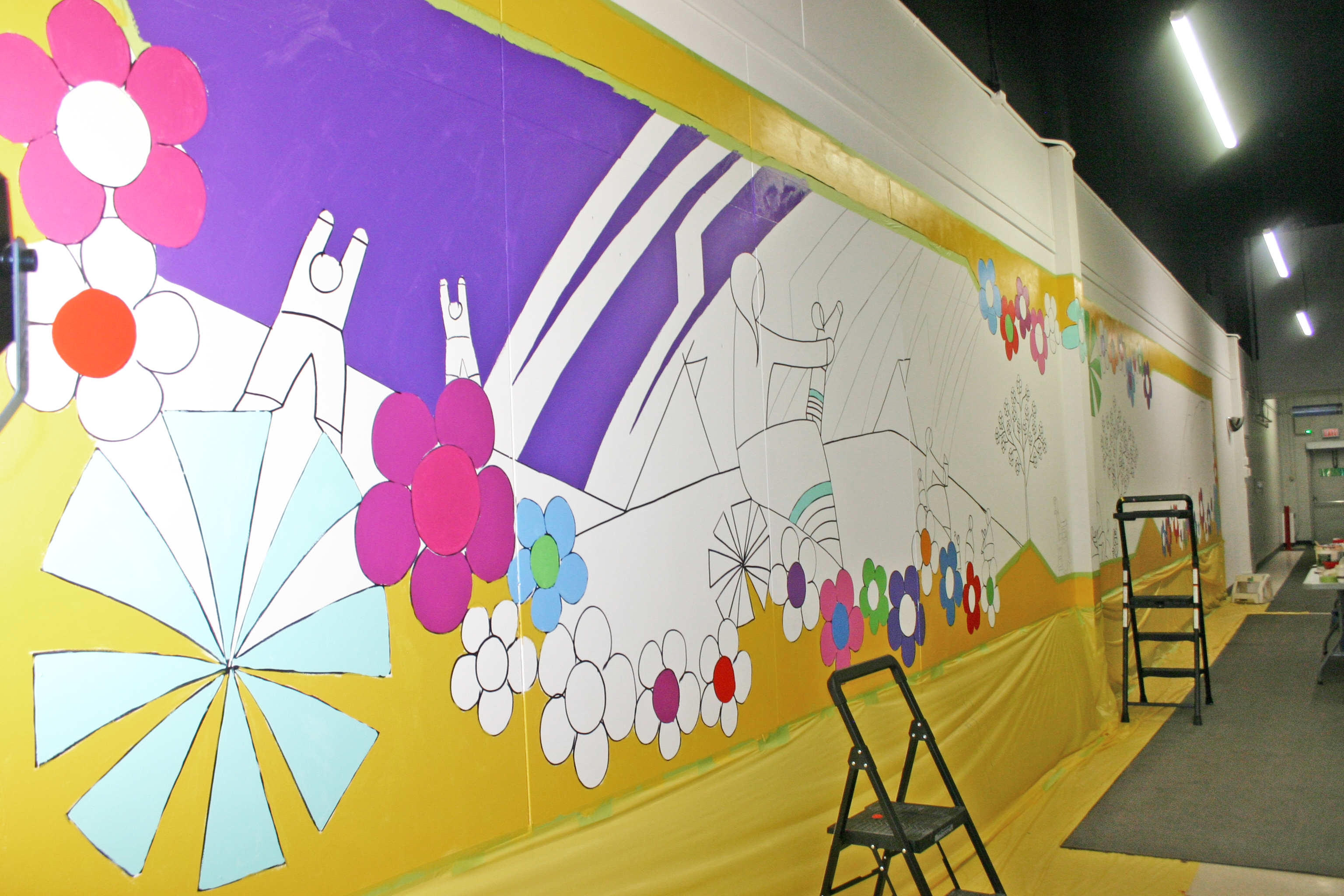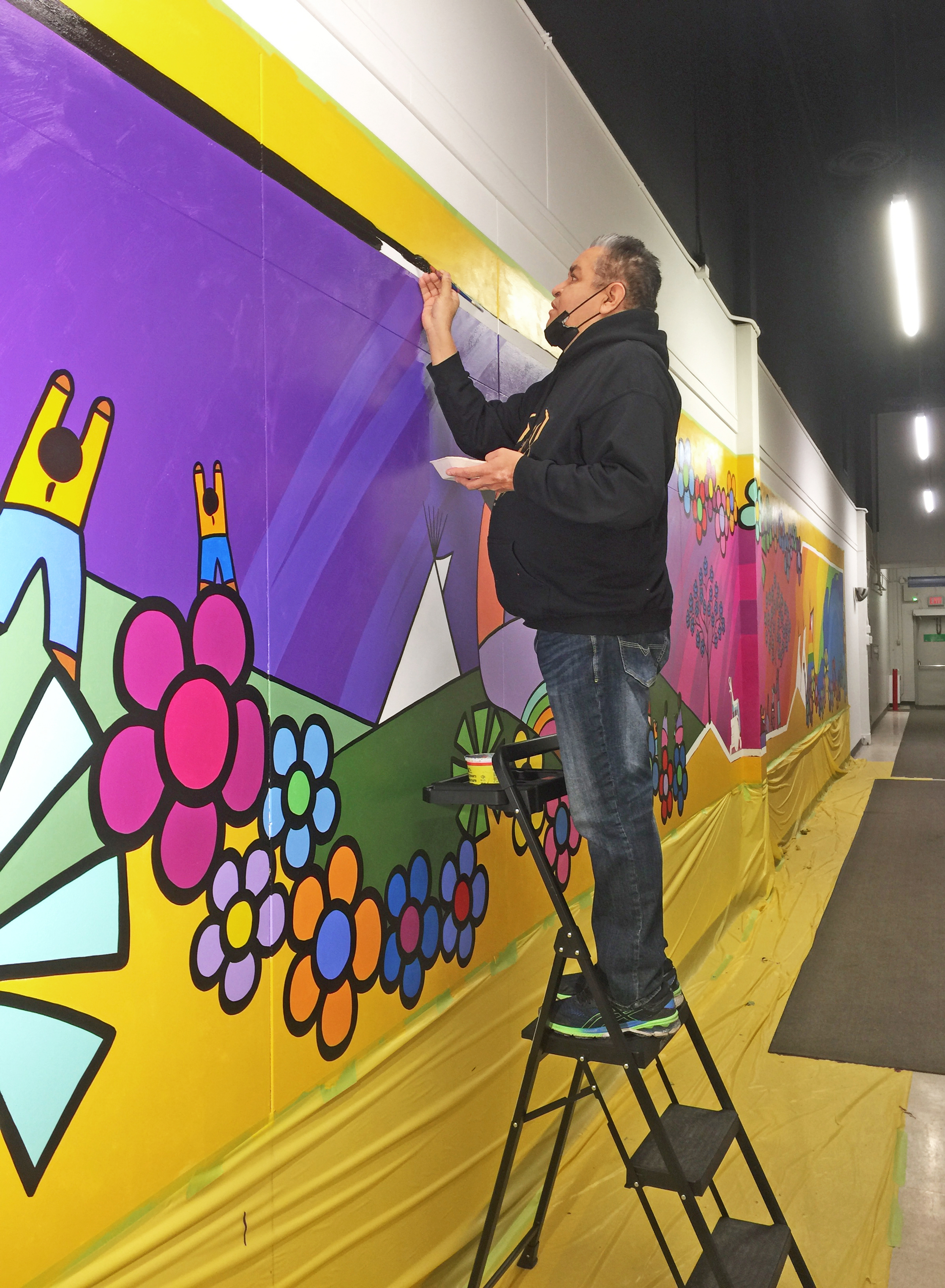 A composite photo is shown below; however, the 48-foot mural really must be seen in person to be fully appreciated!

The finished mural, entitled Enlightenment, is about learning, knowledge, relationships, community, diversity, inclusion, truth and reconciliation, and connections to each other and the land. When describing the mural, Kevin states, "Every learning situation in one's life is a unique experience. It begins with a caregiver's gentle guidance to then sometimes learning with your siblings. We also learn from our teachers/educators and from our Elders and storytellers. The tipis in the mural represent the community and the cultural teachings and support that are offered. Probably the greatest teacher of all is the earth; from its knowledge, we grow like trees. The stars represent the goals and dreams of our children." The mural not only includes various types of teaching and learning; it also represents different races, ages, genders, sexual orientations, abilities and stages of life.
Kevin explains his artwork with the following statement: "My current style depicts traditional floral motifs reminiscent of beadwork, a homage to my late kokum, who created beautiful works on moss bags, moccasins and saddles. This new style is a modern fusion of two worlds, one traditional and one contemporary. The importance of family is prominent throughout the works. The vibrant colours represent the joy of life, meant to inspire hope, success and happiness. These paintings are a tribute to my late mother who was my guide throughout my life, my late grandmother for her strength in cultural beliefs and traditions, and my children for the inspiration they give me."
Biography
Artist Kevin L. Pee-ace was born in Kelvington, Saskatchewan in 1972 and is a member of the Yellow Quill First Nation (Saulteaux) and Peter Chapman First Nation (Cree). For six years of his early childhood, he attended two Indian Residential Schools: Gordon's near Punnichy and St. Michael's in Duck Lake. Kevin's exposure to art happened at an early age when he recalled seeing the drawings and paintings created by his uncle, Jerry Whitehead, who would later become instrumental in helping to launch his career.
In 1985, Kevin's late mother, Ann Whitehead, moved the family out to British Columbia, eventually settling in Mission. In 1991, Kevin graduated from Mission Secondary School and soon after, he enrolled at the University of the Fraser Valley-Abbotsford in the Studio Fine Arts Diploma Program, successfully completing it in 1993. He moved to Vancouver that year and continued his studies at Capilano College in North Vancouver where he pursued his studies in fine arts history, anthropology and archaeology.
After completing his studies in 1995, Kevin entered his professional career in art under the guidance of his uncle, Jerry Whitehead. In the summer of that year, he decided to return to his roots in Saskatchewan and continue pursuing his education at the University of Saskatchewan but decided to instead commit himself full time to his artwork. This led to a collaborative approach in creating class murals with many schools throughout the province.
Kevin currently resides in Saskatoon and has been painting for 27 years. He is married and is a father to three children and has two grandchildren.
To see Kevin's website, please visit https://www.kevinpeeace.com/.