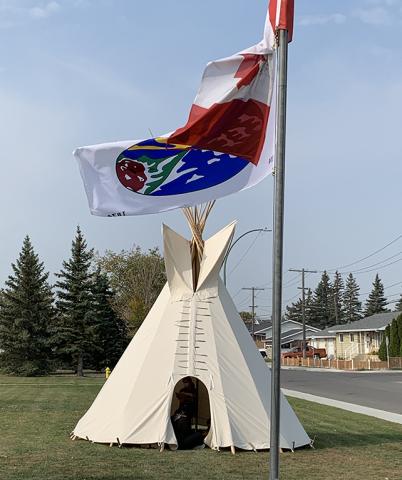 OCTOBER 14, 2021 -- Glen Elm Community School raised the Treaty 4 flag on Wednesday, October 6, 2021. The school's wahkotowin team and other staff members worked hard to prepare school activities leading up to their very memorable flag ceremony. They worked with Indigenous Education Coordinator Jeff Cappo to plan the ceremony, worked with students who were a part of the event, and also planned tipi lessons for each classroom to take part in the day.
Honoured guests who participated in the flag-raising ceremony included Knowledge Keeper Gary Gott, Elder Hazel Dixon, Director of Education Greg Enion, Superintendent Jason Coleman, Supervisor of Indigenous Education Vanéa Cyr and SCC President Monique Baird.
The Treaty 4 flag represents the promises made between the First Nations Peoples of Treaty 4 area and the Crown. To the staff at Glen Elm Community School, it also represents the enduring promise to students, parents/caregivers and the community to educate students and prepare them to the best of their ability. Staff are honoured that the Treaty 4 flag will fly with the Canadian flag from now on at Glen Elm.