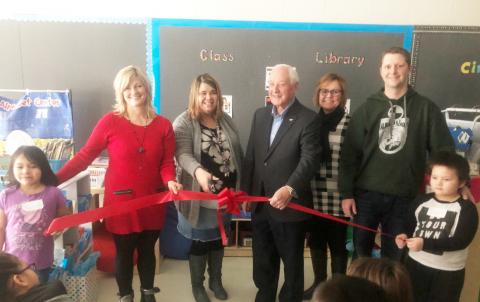 This past month, students in Albert Community School's Grades 1/2 class received a new classroom library. Over 500 new, culturally relevant,age-appropriate books were donated, along with a cozy new reading space. This classroom library was made possible by United Way Regina, Access Children's Fund and the South Saskatchewan Community Foundation.
Classroom libraries are part of United Way Regina's wraparound literacy support. With the addition of these new resources, students have more choices than ever before. It is not surprising to hear that visiting the new classroom library has become a preferred activity in this classroom. In addition to the new books, right pillows, colourful cushions, book shelves, benches and a book nook were also gifted to create a cozy new reading space.
This incredible gift is very much appreciated and will continue to keep on giving year after year. Albert staff and students wish to extend their gratitude to the organizations mentioned above, as well as to everyone within our school division who contributes to United Way Regina. Your donation has made a difference in helping students become all that they can be!