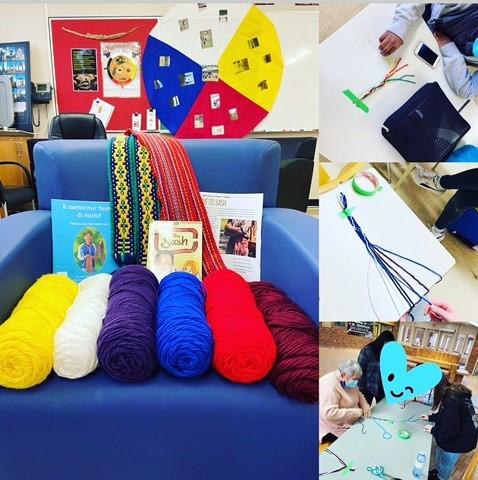 NOVEMBER 25, 2021 -- F.W. Johnson Collegiate flies the Métis flag for the entirety of November in recognition of Métis Awareness Month.
In the classrooms this month, students continued to further their learning on Métis culture and finger wove their own mini sashes to wear for Louis Riel Day on November 16th. Both staff and students wore mini Métis sashes on their lapels as part of their ongoing acts of reconciliation to honour Louis Riel.
The display case in the commons area allowed for students and staff to browse the beautiful and vibrant Métis cultural artifacts, books and information. Elder Hazel Dixon shared her knowledge in classrooms on Indigenous veterans recognizing Indigenous Veterans Day, which takes place every year on November 8th. Additional activities were held throughout the month to celebrate, commemorate and bring awareness to Métis culture.
In response to the 94 Calls to Action, Johnson's commitment for the ongoing acts of reconciliation is continuous throughout the year in their daily learning and actions.