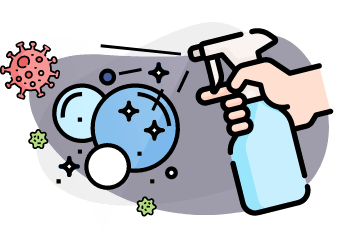 OCTOBER 5, 2020 -- As part of its reopening plan, Regina Public Schools developed heightened cleaning and disinfecting protocols. Following best practices and safety recommendations, the school division began to disinfect all surfaces with a product called Vital Oxide. This product, which is misted on to surfaces, kills viruses, including the coronavirus and is safe to be used around children and adults. It is non-toxic and not considered hazardous by OSHA Hazard Communication Standard 2012. More information about Vital Oxide is available here.

Regina Public Schools Facilities staff follow a disinfecting schedule for all schools, in addition to the traditional cleaning that is done at every school every day. Every Regina Public Schools classroom also has a spray bottle containing Vital Oxide to spot disinfect as necessary. School Facilities staff are always on hand to complete more thorough cleaning or disinfecting of classrooms and other areas, as needed.

Reports of discoloured clothing

Regina Public Schools has heard from several parents and guardians that their children have returned home with discoloured clothing and from some employees. After some investigation, the school division has discovered that, in a limited number of cases, the disinfecting solution may discolour some fabrics when it has either been overused or is contacted when still wet. The school division is confident that this issue is due to over spraying and have revised our disinfection protocols appropriately.

What we are doing differently?

To prevent any further issues with discoloured clothing, the school division has:

· Provided additional information and training to Facilities staff on how to use the disinfectant product and avoid over spraying. Full disinfecting of entire schools will continue at the end of each day and will allow for adequate drying time.

· Limited the application during the day, focusing on high-touch surfaces and will include wiping down some surfaces such as door handles instead of spraying them.

· Reduced the concentration of Vital Oxide in classroom bottles, noting manufacturer's specifications to ensure product continues to be effective.

· Asked staff to push chairs under desks prior to spraying and allowing a full 10 minutes of drying time. All classroom surfaces will also be washed to remove any residue.

In addition to changes to in-school disinfecting protocols, the following changes have been made for Regina Public Schools buses:

· Thoroughly washed all bus seats and directed drivers to wipe down high-touch areas.

· Buses will continue to be fully disinfected at the end of each day, which allows for adequate drying time.

These changes in schools and on buses should minimize or eliminate further clothing discolouration issues, while still ensuring that schools, buses and especially all high-touch areas continue to be as safe as possible.

If students, parents/guardians or staff members are concerned about discoloured clothing as a result of contact with the disinfecting solution, please contact the principal.

Please be assured that application within these modified parameters is still sufficient to kill germs, including the coronavirus. We greatly appreciate the cooperation and support of staff, students, families and communities in keeping our schools safe.