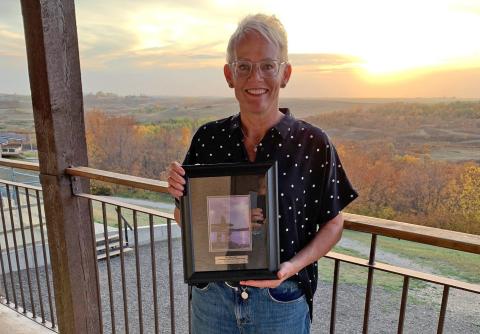 JANUARY 17, 2023 -- Following the passing of Jack MacKenzie on August 22, 2018, the then SPEA Executive immediately passed a unanimous motion to rename SPEA's Career Service Award to the Jack MacKenzie Career Service Award. With the merger of SPEA and SHEA in August of 2021, the new PHE Saskatchewan Executive immediately endorsed the continuation of this award in Jack's honour. Jack was instrumental in modelling the physically holistic healthy lifestyle that this award truly epitomizes.
This award has been created in honour of outstanding contribution to Health and Physical Education in the province of Saskatchewan and its schools. The award winner is exclusively chosen by the PHE Saskatchewan Board of Directors and presented at its own discretion and time.
Congratulations go to Kyla Christiansen, Comprehensive School Community Health Coordinator with Regina Public Schools, for winning the 2022 Jack MacKenzie Career Service Award!
Kyla has had a professional teaching and consulting career that has been noted with her involvement in health education, health literacy and wellness. Her advocacy for the health and happiness of children entrusted to her care has been especially noted with her work within the 2SLGBTQIAP+ community within the province. She was the lead writer for the Ministry of Education's Deepening the Discussion policy document supporting sexual and gender diversity in the province. Kyla is noted for her positive and practical approach to supporting fellow educators and she can always be counted on to get the job done!
Kyla has been actively involved with professional development within her school divisions and the province of Saskatchewan. Her contributions to the development of the Wellness 10 curriculum and many other provincial curriculum initiatives in the area of health and wellness has been noted just not in Saskatchewan but all across Canada. Her contributions behind the scenes have been duly noted by everyone who has worked with her!
Kyla is an excellent role model for children and peers alike. She has always displayed a love for health and wellness through her actions and lifestyle. Kyla has always gone about doing her job with determination, professionalism and a profound sense of doing what is right for her students and those placed around her. She has truly made a difference in the lives of so many over her professional teaching career.
Kyla continues to work between the Regina Public School Division and Good Spirit School Division in a consulting role. This award is a small token of appreciation for all of her hard work and dedication to her students, her peers, her community and the province of Saskatchewan. She is truly deserving of this very special award!
(Reprinted with permission from PHE Saskatchewan.)