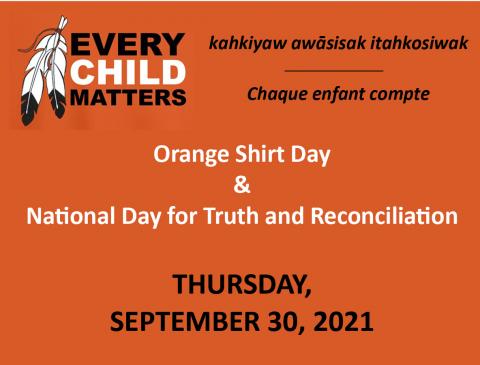 SEPTEMBER 29, 2021 -- Every year on September 30th, people across Canada wear orange and participate in Orange Shirt Day events to acknowledge, teach and learn about the terrible, multigenerational legacy created by the residential school system in Canada. It is a time to reflect on the atrocities committed against Indigenous Peoples and to address the ongoing trauma and inequities in our society today.
Orange Shirt Day originates from the story of Phyllis Webstad from the Stswecem'c Xgat'tem First Nation. In 1973, when she was six years old, on her first day at St. Joseph's Residential School in Williams Lake, BC, Phyllis's brand new orange shirt was taken away from her and never returned. Forty years later, on September 30, 2013, Phyllis spoke publicly for the first time about her experience, and thus began the Orange Shirt Day movement. To hear Phyllis tell her own story, please CLICK HERE.
Please CLICK HERE to view a video that was made a few years ago by Elders and those who survived residential schools discussing the significance of Orange Shirt Day.
In response to the Truth and Reconciliation Commission's Call to Action #80, the Government of Canada has, for the first time, designated September 30, 2021 as the National Day for Truth and Reconciliation. This statutory holiday for federally regulated workers will be a day to "honour survivors, their families, and communities, and ensure that public commemoration of the history and legacy of residential schools remains a vital component of the reconciliation process."
Events in Regina on Thursday, September 30, 2021
A community event in Victoria Park will be held starting at noon to recognize the day. The event, organized by Circle Project and Regina Work Preparation Centre, will offer people a chance to "learn about, act on and honour the impact of residential schools," according to a release.

Also at noon, the Regina Public Library has a program that will start with a blessing from Elder Marjorie Lavallee and an honour song from Plains Cree Inc. The event will include a reading from Bevann Fox, who is a residential school survivor and an author. The event will close with a jingle dance by Connie Starblanket.

Royal Saskatchewan Museum Orange Shirt Day Virtual Presentation (2:00 to 2:45 p.m.)

--

Tim Poitras, Life Speaker and residential school survivor from Muscowpetung First Nation, will speak with students about his residential school experience. Musician and youth mentor Brad Bellegarde, aka InfoRed, will share his song "I Remember", honouring his parents as residential school survivors. The live stream is intended for classes Grade 6 and up and the general public. Live stream the event at

https://www.youtube.com/watch?v=162xhyPbKDI

(This event is brought by the Traditional Knowledge Keepers Program supported by the Saskatchewan Teachers' Federation.)
All Regina Public schools will be participating in their own events. Check individual school websites for details.