Every Regina Public Schools web page has a translate function. It is located on the bottom right of every web page. Use this function to translate an entire web page to a preferred language.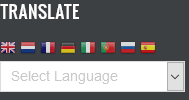 To translate a document from a link - these documents are either Word or PDF documents.
Open the document (click on it)
Copy the words to translate (right click to highlight, copy)
Open Google translate or a preferred translator page.

https://translate.google.ca/

Paste on that page and select preferred language
Translate to preferred language.