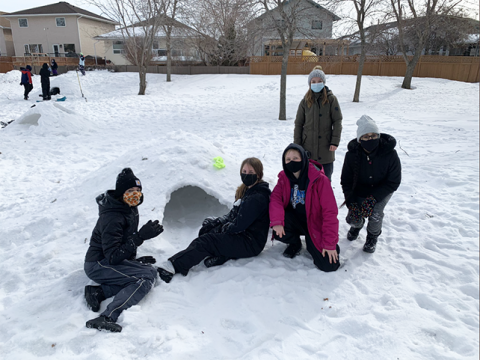 MARCH 25, 2021 -- The Outdoor Education Department supported classroom learning with a series of outdoor winter activities throughout February and early March. Wayne Tranberg and Lori Milligan engaged 58 classes in half-day outdoor learning during those two months. Activities were done in playgrounds and/or parks near the schools. These programs required pre-teaching in the classroom prior to the date of the outdoor activities.
They offered the following five programs for students from Kindergarten to Grade 8.
Inuit Culture and Games
Students shared their research on the different cultural groups living in the north. Each group of students represented a different Inuit cultural group. Wayne and Lori attached numbers to the students' clothing to represent the disc numbers or ujamiit that were used by the Government of Canada in lieu of surnames for the Inuit and were similar to dog tags but were stitched onto their clothing.
The class then learned the tradition of lighting the quilliq lamp to open the "Arctic Winter Games." Teams competed in the following games: owl hop, kneel jump, high kick, leg wrestle, dog pull, thong pull, back push and butt hop.
Winter Survival Challenge
In a winter survival scenario, students were challenged to complete the following tasks: winter first aid, shelter building, fire lighting, ground-to-air rescue signals and Grouse hunting.
The Fur Trade in Canada
Students participated in a series of outdoor activities that simulate a day in the life of a fur trader.
The program included the following activities: dog sledding simulation, log throwing, ice worm hunt, First Nations snows snake game, Hudson Bay Company vs. Northwest Company game, sled races and Métis jigging.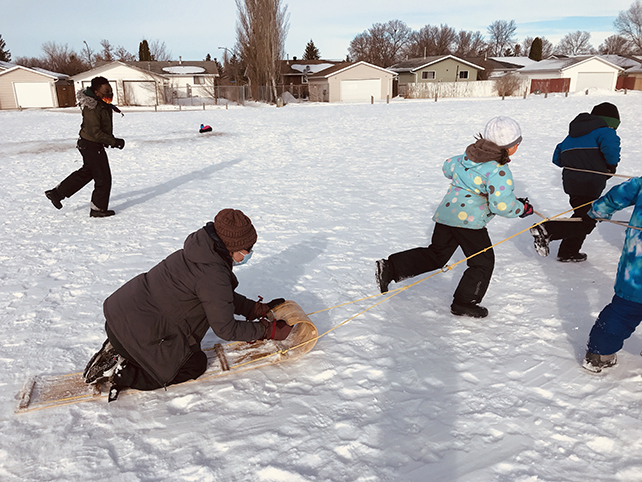 Winter Bioblitz
A bioblitz is an event that focuses on finding and identifying as many species as possible in a specific area over a short period of time. Regina Public schools were all challenged to see how many living species they could count in the winter.
Students looked in every crack and crevice in their schoolyard. They used spoons, magnifying lenses, shovels and their observation skills to find as many species as possible. They even found small critters hibernating at the bottom of the snow layers. They were able to identify most species by using picture identification sheets. One Grades 3/4 class identified 33 species!
Snow Science Studies Using the Scientific Method
Students learned about snow using the scientific method and the following questions:
How much water is produced when snow melts?
Does the colour of a substance affect the melting snow?
How clean is snow?
Does the thickness of snow affect temperature?
Does the location of snow affect temperature?
How much water is produced when snow melts?
Is snow an insulator?
Students discussed the questions and came up with their own guesses to the questions. They then conducted the experiments by collecting different types of snow, digging through snow and using a thermometer. After discussion of the results, they were able to come up with an answer for the questions.