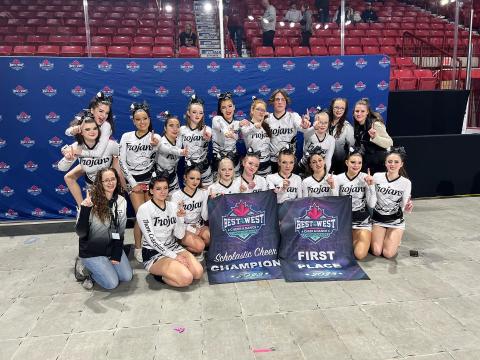 MAY 8, 2023 — In describing the evolution of the Thom Cheer Team, nothing short of stratospheric could apply!
The fledgling group was the brainchild of teacher Melanie Vollman, who started the team at Thom Collegiate in 2009 with a mere 10 untrained athletes. Navigating the arena of competition was a very difficult process and their first event in Moose Jaw did not produce noteworthy results. It did, however, provide an invaluable lesson about preparation and reaching the required skill level before stepping on a stage. This lesson led to a two-year hiatus from competition.
Although that first season was not a display of outstanding achievement, the team made strides and advanced under Vollman's guidance and firm management. Undaunted by the few successes of that first year, Melanie continued to train athletes, many of whom had never competed in the sport before.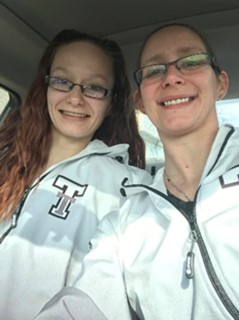 Over the next few years, Vollman increased the skill level of the routines performed and the team started experiencing success, placing in the top three of all their competitions. In 2014, a co-coach, Ashley Ayers, was added to the roster. As the ability of the team increased, so too did the accolades and in 2019, they struck gold! Unfortunately, as with all collegiate teams, the pandemic put an end to in-person participation in the sport.  The bid their hard-fought efforts garnered them to the World Cheerleading Competition in Orlando, Florida in February 2021 had to be turned down.
However, this setback did not deter their efforts as athletes remained committed to the team, tuning in to video practices for dance and conditioning. For the last two years "post-pandemic," this dedicated team has gone undefeated in all of their competitions—from the Warman Cheer Classic and Best of the West to Provincial Championships. At Warman and the Provincial Championships, the team was so successful, they "hit zero," which translates to having no points deducted due to falls, slips or other flaws in their performance.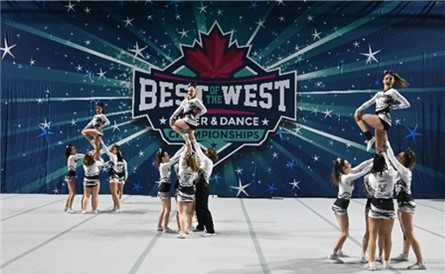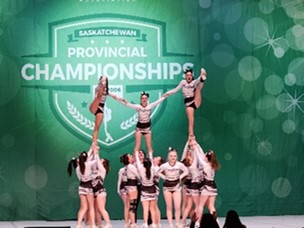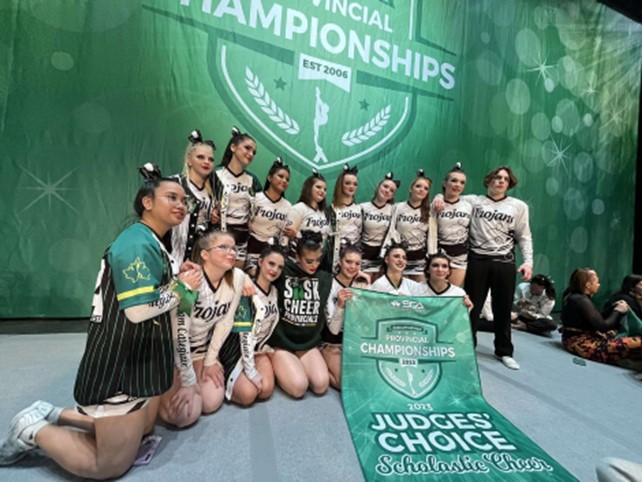 Not all of their battles have been fought on stage as cheerleading does not always get the recognition it merits. Cheer athletes practise twice a week for sometimes four hours at a stretch. Additional practices are added during holidays and professional development days. All athletes adhere to a workout schedule during the summer as well.
The season is long, starting in September and ending in April. Routines are very challenging—they must perform cheers with props, dance, jumps, stunts and tumbling choreographed to music in a two-minute-and-30-second segment. They are judged on difficulty, execution, impression and safety. Expert panels are looking for a clean routine that is synchronized and uniform. All athletes must perform with excitement and engage the audience and judges in their performance.
Melanie and Ashley put in countless hours to prepare their athletes and create challenging and engaging routines at the level of ability they have achieved. They are the only team representing Regina Public Schools and, as such, are able to accept cheer athletes from any Regina Public high school or affiliate. Vollman has elevated this sport at Thom Collegiate to the highest caliber, and staff and students are extremely grateful for her contribution and proud of the students' achievements.