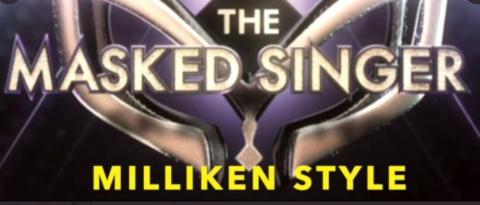 MARCH 26, 2021 -- Students at Ethel Milliken School are getting to see a different side of some staff members…a side they are finding difficult to recognize. Twelve staff members donned full costumes to sing and dance along to popular songs, similar to the style of the hit show, "The Masked Singer."
Milliken Masked Singer is proving to be a hit of its own. Group A performers (The Penguin, The Lion and Tommy) sang and danced their hearts out in the premiere episode on February 23rd. Students and families spent Tuesday evening voting for their favourite performance and the remainder of the week guessing the identities of the masked singers based on clue packages about each performer.
Group B took to the stage the next week where The Bear, Old Potato Head and GopherRodentSquirrel went head to head in competition. There was a record 866 votes to determine who would be moving into the next round. Other performers in groups C and D include Disheveled Ethel, The Panda, Monty, Buzz Not a Light Year, Tavish and The Unicorn. Performances will be aired on MillikenTV every Tuesday for four weeks, and the season will culminate with a final round as the top four performers in each group vie for the community's votes to be crowned the Milliken Masked Singer champion.
Special thanks to a local well-known voice Mark Johnston, who hosts the morning show on Play92.1 FM. He was gracious enough to offer his excellent hosting skills for this unprecedented event.
Ethel Milliken staff are proving they can find spirit and fun in this challenging school year and they're taking wearing masks to a whole new level!
For final results, please CLICK HERE.