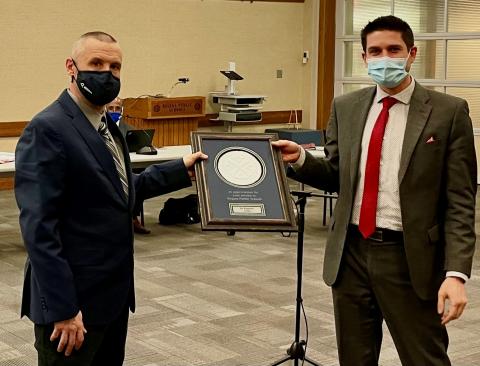 March 3, 2021 -- At the meeting of the Regina Board of Education on March 2, 2021, current trustees personally thanked former trustee Jay Kasperski for his four years of service with the Board, and Chairperson Adam Hicks presented him with a plaque.
Trustees who worked with Jay spoke about his meticulousness and attention to detail, especially when it came to numbers and matters financial. His tireless dedication to identifying and addressing student transportation issues was also noted.
The Regina Board of Education has plans to similarly honour three other former trustees. Unfortunately, because of COVID-19 restrictions, the scheduling of visitors to the closed meetings has proven challenging. Future board agendas will announce when the other trustees will be honoured. Former trustee Dr. Jane Ekong was honoured at a Board meeting on February 9, 2021.
You can watch the meeting of the Board of Education and the presentation to former trustee Kaskperski here at the 4:05 timestamp.