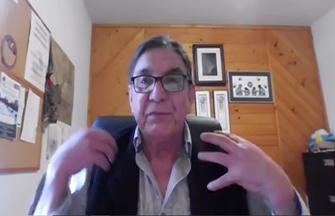 APRIL 28, 2022 -- Students and staff at Thomson Community School were thrilled to listen to and learn along with Willie Ermine, who is from Sturgeon Lake First Nation. Storytelling through oral language is a beautiful way for people to connect and engage in an Indigenous worldview.
Willie Ermine is an Assistant Professor with the First Nations University of Canada who lectures in the areas of education, humanities, Indigenous studies and research methods. He has published numerous academic articles, presented at various national and international conferences, and is a profound knowledge keeper and Elder.
Willie graciously shared his stories with students and staff. The wâhkôtowin connection was valuable teaching and allowed the students to listen to the sounds we hear outside and our connections to nature. Ermine graciously shares, "Land-based learning is a form of education that connects learners to the land to engage the interconnecting modes of the mind, body and spirit into a symphony of elevated awareness." (2018) Willie believes in the strong connections we can make. He states, "Land-based learning is a restoration of the Indigenous presence on the land and the revitalization of land-based practices. It's about the learners being encouraged to use all senses and engage respectfully with local peoples and places and reflect and share stories of the experiences of transformation and reconnection to land/plants."
Willie made a strong connection with staff and students, and his presentation will not be forgotten.
Special thanks to Willie for his time and wisdom.
(Ermine, Willie. (2018) The philosophy of Land-based Education: Learning to be an Indigenous being. Unpublished manuscript.)