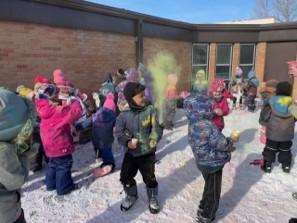 APRIL 17, 2023 — Holi is a popular celebration amongst the students at Ethel Milliken School. Because staff happily welcome many newcomers and families who celebrate Holi, they felt it was important to share this amazing tradition as a school.
The entire population at Milliken participated in the Colour Festival, which is part of the popular Hindu Festival. The Hindu festival celebrates spring, love and welcoming a new life. This festival is very colourful, providing an environment to let loose by singing, dancing and throwing colour powder paint and coloured water.
Unfortunately, due to the cooler weather, Kindergarten and Grade1 students had to participate on an alternate day, but they still had an absolute blast. Being able to throw coloured powder at their teachers, laughing and having the opportunity to share a positive experience was appreciated by all students and staff.
Hearing the laughter and joy from students was truly heartwarming as everyone learned more about traditions that are important to each other's families.