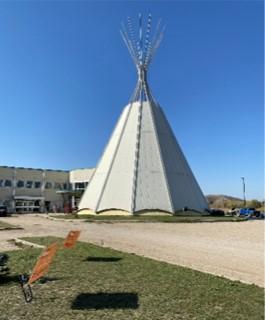 OCTOBER 26, 2021 -- On Tuesday, October 5th, students in Thom Collegiate's Grades 10 and 11 Indigenous Studies classes embarked on a journey for reconciliation.
Thom teachers, Elder Frank Caldwell, Indigenous Advocates Krista Sherman and Luke Blondeau, and the students travelled to Standing Buffalo First Nation, the Fort Qu'Appelle Treaty Four Education and Governance Centre and to the site of the former Lebret Residential School to engage in land-based learning and to reflect upon the personal implications of truth and reconciliation.
Taking to heart the TRC Calls to Action for Education of "Building student capacity for intercultural understanding, empathy, and mutual respect," students accrued knowledge regarding the impacts of residential schools and listened to survivor accounts in preparation for this day of awareness. Each student was asked to decorate a stone in commemoration of the lives lost to these appalling institutions where Indigenous children suffered horrendous abuses. Students took the time to reflect as they accomplished this small personal tribute.
Beginning on the land of Standing Buffalo First Nation, walking along the Qu'Appelle River, staff and   students adopted a very reflective approach to the day. At the File Hills Qu'Appelle Tribal Council Education Centre, the group was greeted by Director of Education Sarah Longman and FHQ Superintendent Michael Gatin, who instructed students on the governance model of the Tribal Council.
After a soup and bannock lunch provided by parents of Thom student Patience Benjoe, the group travelled to the gates of the Lebret Residential School. There, students placed their decorated stones honouring the memory of those lost and of those who survived. Students were directed to take time to reflect on truths learned and to consider ways to address the oppression, exclusion and anti-Indigenous racism.
Staff recognize that the harmful effects of colonization need to be taught and that students need to be given the opportunity to respond to them in meaningful ways. This day of reflection was an important first step on the path to reconciliation.