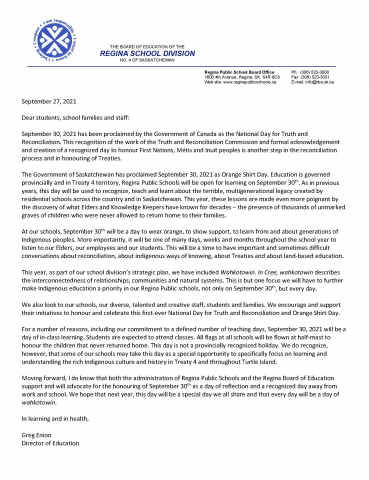 September 27, 2021--Director of Education Greg Enion posted the following letter for all students, school families and staff. Read the letter here, or below.
Dear students, school families and staff:
September 30, 2021 has been proclaimed by the Government of Canada as the National Day for Truth and Reconciliation. This recognition of the work of the Truth and Reconciliation Commission and formal acknowledgement and creation of a recognized day to honour First Nations, Métis and Inuit peoples is another step in the reconciliation process and in honouring of Treaties.
The Government of Saskatchewan has proclaimed September 30, 2021 as Orange Shirt Day. Education is governed provincially and in Treaty 4 territory, Regina Public Schools will be open for learning on September 30th. As in previous years, this day will be used to recognize, teach and learn about the terrible, multigenerational legacy created by residential schools across the country and in Saskatchewan. This year, these lessons are made even more poignant by the discovery of what Elders and Knowledge Keepers have known for decades – the presence of thousands of unmarked graves of children who were never allowed to return home to their families.
At our schools, September 30th will be a day to wear orange, to show support, to learn from and about generations of Indigenous peoples. More importantly, it will be one of many days, weeks and months throughout the school year to listen to our Elders, our employees and our students. This will be a time to have important and sometimes difficult conversations about reconciliation, about Indigenous ways of knowing, about Treaties and about land-based education.
This year, as part of our school division's strategic plan, we have included wahkotowin. In Cree, wahkotowin describes the interconnectedness of relationships, communities and natural systems. This is but one focus we will have to further make Indigenous education a priority in our Regina Public schools, not only on September 30th, but every day.
We also look to our schools, our diverse, talented and creative staff, students and families. We encourage and support their initiatives to honour and celebrate this first-ever National Day for Truth and Reconciliation and Orange Shirt Day.
For a number of reasons, including our commitment to a defined number of teaching days, September 30, 2021 will be a day of in-class learning. Students are expected to attend classes. All flags at all schools will be flown at half-mast to honour the children that never returned home. This day is not a provincially recognized holiday. We do recognize, however, that some of our schools may take this day as a special opportunity to specifically focus on learning and understanding the rich Indigenous culture and history in Treaty 4 and throughout Turtle Island.
Moving forward, I do know that both the administration of Regina Public Schools and the Regina Board of Education support and will advocate for the honouring of September 30th as a day of reflection and a recognized day away from work and school. We hope that next year, this day will be a special day we all share and that every day will be a day of wahkotowin.
In learning and in health,
Greg Enion
Director of Education