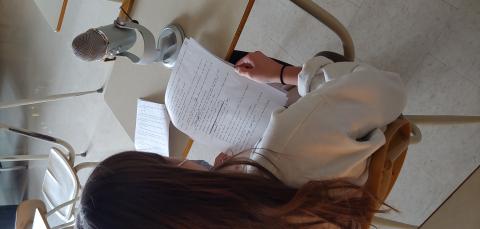 NOVEMBER 3, 2021 – The following article was written by Sara Salazar, teacher at Martin Collegiate.
For the last two years, I have had the absolute privilege of teaching the Fine Arts Drama 9 rotation as a temporary teacher at Martin Collegiate during an ever-hanging pandemic. As if starting a new career and precarious work during a global pandemic wasn't stressful enough, you can imagine creating authentic theatrical experiences for drama students has been an interesting challenge.
At the beginning of last year, I introduced the radio play project to the Drama 9 rotation to allow new students the opportunity to act and experiment with technical theatre while still remaining socially distanced and safe. Now it has become a huge part of how I introduce Grade 9 students into the world of a theatrical production.
Last year, we were only able to complete three radio plays before the project had to come to a stop as safety restrictions grew stricter and confining in the school system and we moved to a hybrid quint system. This year, however, the Radio Play Project is back in full swing!
In each rotation, we, as a class, pick an old radio play or episode to recreate with our voices and sound effects found freely online or made by the students themselves. We work on expressing emotion with only our voices and learn how to project while still wearing masks. The sound effects and music clips are collected and mixed by the students themselves. Through this project, students begin to learn the rehearsal process, the many challenges that come with a production, and how to come together as one to create a collective piece of art.
This year, CBC Radio expressed interest in learning more about the Radio Play Project and asked to do an audio piece for the local radio show, "The Morning Edition." They came into the classroom to record the ambient environment of students setting up, rehearsing and figuring out technical things as they prepared for the performance. CBC's Florence Hwang interviewed a few students about their thoughts on the process and hopefully captured a piece of the students' experience in learning how to put together a radio show. To listen to the episode that aired on October 14th, please click on the following link: https://www.cbc.ca/listen/live-radio/1-66/clip/15872131.
Overall, I believe this was a positive experience for the students and myself, and hopefully it sparks some creative inspiration in others and we'll see more active enrolment in Drama at Martin because of it.