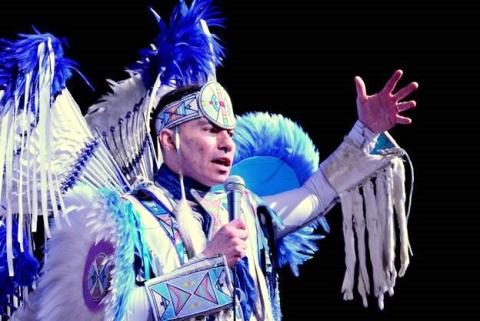 APRIL 1, 2019 - Regina Public Schools was proud to welcome Christian Parrish Takes the Gun, known professionally as Supaman, for three days of performances from March 18th to 20th to students and the Regina community! While in the city, Supaman performed for students from Albert, Connaught, Kitchener, Jack MacKenzie, Seven Stones, Wascana Plains, Balfour and Scott, and he shared his message of overcoming hardship and loss and about becoming a positive role model.
Supaman is an Apsáalooke hip-hop artist and fancy dancer from the United States who has produced a number of CDs and won countless awards, including an MTV Video Music Award for Best Video with a Social Message in 2017. He is an energetic performer with important messages about leadership, goal setting, healthy living and triumphing over life's many challenges. His performances are done in full fancy dance regalia and his personality and crowd interactions made him extremely engaging with all of his audiences.
On the Wednesday evening, Regina Public Schools also hosted a community event at mâmawêyatitân centre, where hundreds of audience members came out to enjoy his show.
Thank you to Sarah Longman, Supervisor of Indigenous Education, and Jeff Cappo, Cultural Liaison, for all of their hard work in arranging for Supaman to visit Regina!