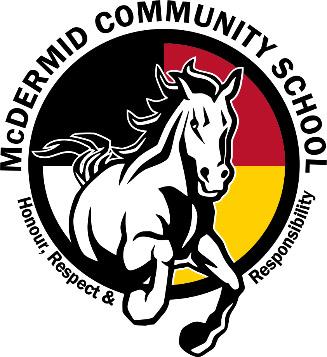 MAY 1, 2023 — On March 30th, the students and staff at McDermid Community School participated in Festivaal aen Michif. This whole school event (Pre-Kindergarten to Grade 8) was intended to celebrate Métis culture and to participate in Michif language revitalization. The day was coordinated with an eye towards relationship building (wâhkôtowin).
Small groups, consisting of students from each grade, rotated through a variety of stations run by staff. The Grades 7/8 students had a leadership role in their groups. They needed to navigate their rotation schedules, get all members of their group to each station and help the younger students. They did an amazing job! Additionally, the Pre-Kindergarten and Kindergarten students from the Michif Immersion program, Mi Pchi Zaamii, had the opportunity to demonstrate their Michif expertise. They definitely impressed their group members.
The day was spent jigging, making Métis-style dot art, beading, paper sash weaving, playing Michif Bingo and munching on la gaalet (bannock).
They were fortunate to have community members be part of their celebration as well. Artist and Pre-K parent Melainie Rose taught students how to create floral pompom art inspired by animal hair tufting. Elder Wanda Lewis joined to share "Stories from the Past," along with her collection of beautiful artifacts. To cap off the day, participants together in the gym listened to Indigenous stories told by parent Simon Moccasin.
Both staff and students took risks that day, learned some language and, most importantly, had a great time. What a remarkable day spent learning through a Métis lens!