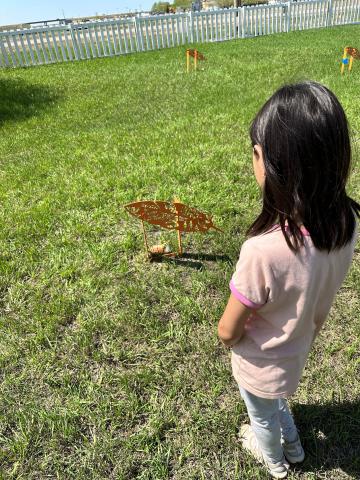 JUNE 7, 2023 — Last month, the Grades 3 and 4/5 classes at Ethel Milliken School learned from Mr. Bill Wall about the Regina Indian Industrial School (RIIS) and the cemetery off Pinkie Road.
Bill, together with the classroom teachers, provided extensive history and insight into the significance of the cemetery and the children who are buried there during his classroom visit as well as the visit to the cemetery. The students spent time quietly walking the perimeter, reflecting on the stories told about the Regina Indian Industrial School. The students left apple slices as a gift to the children as they paid their respects at the graves.
The visit provided an excellent opportunity for the students to take their learning and understanding of residential schools deeper as they walked and listened to the names of the children who attended and died at the school.
After the reflective visit, the Grade 3 class returned to the school and each student wrote a poem for the children buried at the RIIS cemetery. In the next column is the poem written by student Fatima.
A Grief Poem
I miss your smell of flowers.
I miss your voice like soft, sweet air.
I miss your hands that were as soft as the wings of a butterfly fluttering to play.
But I know that living means hoping.
And I want to live. I want to hope.
And you, child,
I want you to be the hero you are.
Go, be the hero you are.