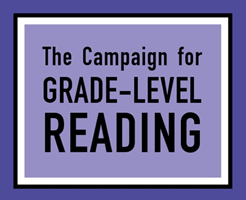 City Leaders, Agencies Commit to Boosting Early School Success
July 30, 2019
Regina is taking a big step toward improving student success by joining the Campaign for Grade-Level Reading (CGLR), a collaborative effort to improve reading proficiency and early school success for children from low-income families.
In Saskatchewan, 1 in 4 kids live in poverty. Every day, people across our community struggle to build better lives for themselves and their families. These challenges are magnified by complex social issues – including poverty, food insecurity and inequity – and impact education, health and economic outcomes. "Investing in kids and investing in them early is one of the best investments we can make as a community, for our community" said Amanda Lanoway, Associate Director, Engagement at United Way Regina. "Getting our kids reading well by the end of third grade will set them up for success in school and in life which will go a long way to improving the lives of families and growing stronger communities here in Regina."
Reading proficiency by the end of third grade is a critical milestone toward high school graduation and success later in life because it marks the transition from "learning to read" to "reading to learn." Students who have not mastered reading by that time are more likely to drop out of high school and struggle throughout their lives.
In the 2017–2018 school year reading proficiency in the early grades in the City of Regina indicated 66.6% of students in Grade 1, 70.8% of students in Grade 2 and 74.4% of students in Grade 3 were reading at or above-grade level. The goals of the local GLR campaign align with relevant provincial Education Sector Strategic Plan (ESSP) outcomes which aspires to moving the needle to 80% of students will be at grade level or above in reading, writing and math.
In Regina, the local GLR campaign is supported by the following organizations that have been hard at work the past 12 months to obtain entry into the international network.
City of Regina
Community Initiatives Fund
Early Childhood Intervention Program
KidsFirst Regina
REACH
Regina Catholic School Division
Regina Early Learning Centre
Regina Early Years Family Centre
Regina Open Door Society
Regina Public Library
Regina Public School Division
Regina Region Local Immigration Partnership
Regina Treaty/Status Indian Services
Saskatchewan Health Authority
Saskatchewan Literacy Network
School Community Council, Imperial School
SEARCH
United Way Regina
University of Regina
In Regina, United Way Regina plays a backbone role supporting the local GLR campaign financially, through the support of generous donors and sponsors, and with human resource capacity including Dr. Nora Findlay who was contracted to submit the Community Solution Action Plan for Regina. In addition to the agencies and community groups previously mentioned, the Regina Human Service Partnership has collaborated to oversee the multi-year action plan.
Eleven coalitions of local civic leaders and funders are joining the Campaign for Grade-Level Reading (CGLR). The newest communities to join this collaborative effort are: Adams County, Illinois; Jackson, Mississippi; Metro Omaha, Nebraska; Guilford County, North Carolina; Lackawanna County, Pennsylvania; Regina, Saskatchewan, Canada; Brazos Valley, Texas; Corpus Christi-Nueces County; Texas; Lubbock County, Texas; Midland, Texas; and Tyler-Smith County, Texas.
The communities' action plans address three underlying challenges that can keep young children, especially those from low-income families, from learning to read proficiently — school readiness, school attendance and summer learning.
"We are delighted to welcome these communities into the growing GLR Network," said Ralph Smith, managing director of CGLR. "We look forward to working with the leaders and funders in each of the local sponsoring coalitions. It is their commitment, persistence, vision and energy that will fuel the effort to ensure early school success and more hopeful futures for children in these communities."
Membership in the GLR Network gives Regina, SK access to experts and policymakers focused on early school success; assistance in addressing the challenges that keep many children from learning to read; and access to the online Community Learning for Impact & Improvement Platform (CLIP), which is designed to lower the barriers and costs associated with spreading information about what's working, why and under what conditions.
Contact: Amanda Lanoway
306-540-9884
alanoway@unitedwayregina.ca
@UnitedWayRegina
About the Campaign for Grade-Level Reading
The Campaign for Grade-Level Reading seeks to disrupt generational poverty by mobilizing communities to promote early school success for those children currently on the high-risk side of the achievement gap. To date, our efforts have helped to spark a "grassroots to governors" movement for ensuring early school success, advancing grade-level reading and reducing chronic absence as important policy priorities. More than 4,100 organizations have formed "big tent" sponsoring coalitions in 300+ communities across 44 states, the District of Columbia, Puerto Rico, the U.S. Virgin Islands and Canada. To learn more, visit gradelevelreading.net and follow the movement on Twitter @readingby3rd.