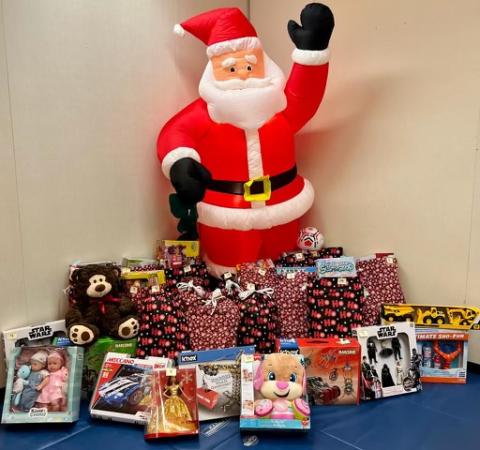 DECEMBER 20, 2022 -- This is the time of seasonal festivity for many in our society. However, those of us working in schools have seen the firsthand effect of insufficiency on many students and their families. CUPE 3766, representing over 700 10-month support staff, wanted to share the true spirit of Christmas joy to help ease the burden on some of Regina Public Schools' families.
This year, the Social Committee planned a few fun events to bring together staff, students and the wider Regina community.
During the week of November 28th, a hugely successful toy drive was held at École Centennial Community School! This could not have been accomplished without the help of Regina Public Schools, "Hit The 'Stco" (Costco) Facebook group and the Regina community by sharing information about the toy drive through social media.
CUPE 3766 members are thankful for the generosity shown by many Regina Public Schools staff and trustees, Superstore Rochdale, Superstore Prince of Wales, Toys "R" Us and many Regina individuals who donated more than 200 excellent-quality toys. These toys were shared equally among 19 schools. Thank you for your kindness and sprinkling extra joy to students, many who may otherwise not have anything under the tree this year.
CUPE 3766 members found extra cost savings in their budget and were able to contribute $750 to 19 individual schools. These donations are to be used at the discretion of each school to help students and their families with hardships that they may be facing.
On December 5th, the Social Committee held a virtual Christmas trivia event. This fun-filled occasion had 21 members win a $100 gift card of their choice from The Co-op, Superstore, Winners or Costco. In addition, three lucky members won a spa package worth more than $300 each! Congratulations to these CUPE 3766 members; they deserve to be treated well over the holiday break!
The CUPE 3766 Executive, Social Committee and members wish everyone a season filled with gratitude, harmony and rejuvenation as we welcome 2023!