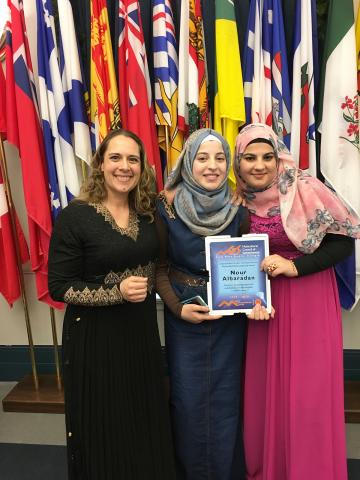 Sheldon-Williams Collegiate is well known for supporting inclusion and celebrating diversity. This fall, Sheldon was recognized twice for their unique programs that connect students of various cultures together.
In October, representatives from Sheldon's Mindful Creative Writing class were invited to a private reception and luncheon with Her Excellency the Right Honourable Julie Payette, Governor General of Canada. During this time, students spoke to Her Honour about how Sheldon's Mindful Creative Writing class supports students from differing cultures and backgrounds to connect with each other and share their unique perspectives.
Nour Albaradan, a refugee from Syria, told Her Honour, "Through this course, I was able to learn about other people's cultures and also share about my own culture. Taking this course made me confident to share my story and know that people would listen to me. In this class, I shared what it is like to be a refugee and new to Canada. I think the other students learned about what it was like to go through a war and how important peace is." In addition, Nour (shown below) also shared a poem called "Being Human" that she had written during the course.
Following Nour, another Syrian student, Mays Al Jamous (shown below), spoke to Her Honour about how the mindfulness aspect of the class supported her. Mays remarked, "Through mindfulness, I learned not to live in the past. I have some bad memories of the war, but mindfulness made me realize that those past memories of the war are not happening now."
Later this fall, Sheldon was again recognized for its achievements at the Multicultural Council of Saskatchewan's Multicultural Award ceremony. The work of Sheldon's Mindful Creative Writing class was featured and the class video was shown (https://www.youtube.com/watch?v=w-kJDFt91_I&t=4s). Later in the program, Mays Al Jamous read her poem, "Being a Refugee," which she wrote as part of the course and also shared with the entire school community.
In addition to the recognition of the work occurring at Sheldon-Williams Collegiate, one particular student, Nour Albaradan, was acknowledged. Nour is well known at Sheldon for her leadership in multiculturalism and was the recipient of the Multicultural Council of Saskatchewan's 2018 Multicultural Youth Leadership Award.
As a school, Sheldon-Williams Collegiate is dedicated to celebrating multiculturalism, supporting inclusion and embracing diversity amongst students in hopes of creating a more understanding culture. Staff certainly feel blessed to have both of their programs and students recognized and celebrated by the community.