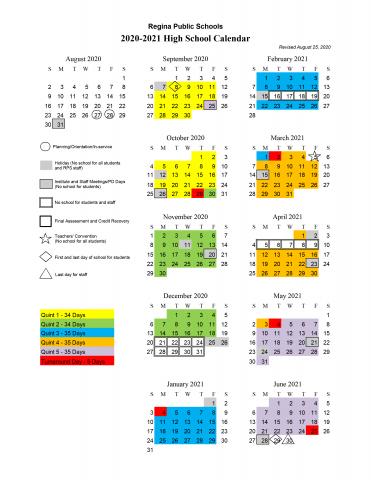 August 25, 2020 -- Regina Public Schools announces its collegiate scheduling plan which will be based on a "quint" schedule for 2020-21. This scheduling plan is designed to support the health and safety of students and staff members.
A quint schedule means students will be taking two classes per day while maintaining the option to achieve 10 credits per school year.
The quint schedule supports the health and safety of students and staff members in several ways:
• Students and teachers will have fewer interactions and transitions.
• Extended interactions between multiple groups of students will be reduced.
• Start times, breaks, and dismissal will be staggered and coordinated.
• If it is necessary to return to online learning or move to a hybrid approach, students and teachers will be responsible for fewer courses at one time.
The school year will be divided into five learning terms or quints.
• A student will take two courses in each quint, one in the morning and one in the afternoon.
• Each period is 160 minutes long with teacher-generated breaks staggered 10-minute break.
• Each quint would last for approximately 34 to 35 days.
Quint 1: Sept. 8 to Oct. 28
Quint 2: Oct. 30 to Dec. 18
Quint 3: Jan 5 to March 1
Quint 4: Mar. 3 to May 3
Quint 5: May 5 to June 24
The start of the school day and the lunch hour will be staggered. Specific start times will be determined by each collegiate. A student's individual timetable will be updated and communicated prior to school start up.
During the year, professional development days will stay the same as previously announced. Please note that semester turnaround days in January are now instructional days.
Here is an example of what a collegiate's quint may look like. Please check with your collegiate for their specific schedule.
To view the overall high school calendar, please go to the Regina Public Schools calendar page.