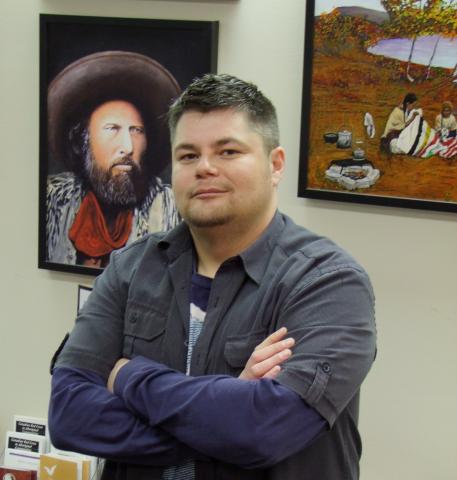 DECEMBER 17, 2021 -- Russell Fayant was December's guest speaker at Albert Community School. Russell is a faculty member with the Saskatchewan Urban Native Teacher Education Program (SUNTEP), and he is based out of the University of Regina campus. Russell is Métis and from the Qu'Appelle Valley in Saskatchewan. He is a Michif speaker and says he is still learning his language.
Russell began his presentation at Albert School with a jovial hello to everyone and then started to introduce himself in his Michif language. Once he finished his introduction in Michif, he explained to everyone what he said and what it meant to him to be able to speak his language. Russell is not fluent in Michif but is continually learning from other speakers.
Russell gave a short narrative of who he is and where he was raised. He was raised in a single-parent home by his mom who worked very hard to provide for their family. He also stated that university was not a concept in his family; however, the value of "try hard and be the best person you can be" was instilled at a young age.
Russell shared that around the age of 12 or 13, he started to steal and it became a normal way of obtaining items he wanted. It was also around this time that he started to go back to his home community and visit with his aunts and uncles. Russell recalls listening to the conversations of his aunts and uncles about different people and relatives who were going in and out of jail. He states that the comments that his aunts and uncles made were very negative and the saying "be a good person" came back to him.
Around Grade 8, Russell made the decision that he was going to stop stealing and work hard for what he wanted; the goal was to make his family proud. At 15 years of age, Russell got his first job at McDonald's, and with his first paycheque came the freedom of choice and independence. The McDonald's income had an impact on his whole being as a young person. Russell states, "I could do whatever I wanted. It made me feel proud. No one could take it away from me." Russell further explained to Albert students that he eventually was able to pay for his own school fees, buy his own clothes and help with groceries for his family. He also held down two jobs during high school and graduated at the age of 17. He was proud of his accomplishments and went to work as a painter after high school with his cousin. Russell worked long, hard hours but realized there were no benefits or pension for all of his hard work so he decided he needed a career. He applied to SUNTEP and the rest is history. Russell has been at SUNTEP for 15 years now.
Russell told Albert students that there is dignity in all work. "A career allowed me to buy my own home and a few nice brand-new cars, and a pension will help take care of me when I am older." Russell has lots of friends, knows his culture and his people, and made his family proud. He is glad he made the decision to "try hard and be a good person."
Russell had these last words of support and encouragement for Albert Students. "If I can do it, you can do it. You will have lots of opportunities in your life. A little hard work is a good way to live — work hard and listen. The other path is a poor path; take care of yourself. Be proud of who you are. Listen to your family; love family; go home and hug them. They work hard for you."
Russell worked hard to make his mom and extended family members proud of who he became as a man. The idea of aunts and uncles thinking or talking badly of him because of "bad choices" made him work even harder to become an accomplished educator at SUNTEP. Russell set goals, challenged himself by the domains of the medicine wheel (emotional, mental, physical and spiritual), and he is learning to reclaim what was once lost to him — his Michif language. His ancestors would be proud of him!