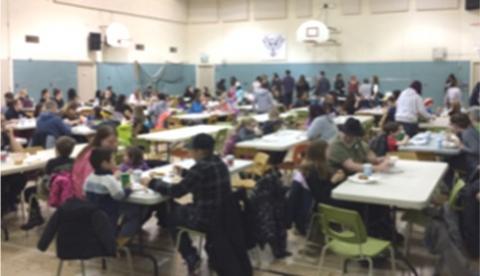 Community never stays the same; it is constantly changing and evolving, and because of this, we recognize that many of our families are also constantly changing and evolving. Family and community engagement equals belonging, understanding, education and strength.
Thursday, November 22nd was a very special evening at École Elsie Mironuck Community School. In collaboration with over 15 community agencies, the school staff hosted 175 people (40 families) and community members at a Community Engagement Night to support and promote the wonderful services that families can access throughout our city and community.
Even if connection to community is something they were not interested in, everyone was encouraged to come for supper and connect with the school community. Transportation was even provided for those who needed it, as well as programming for children so parents could visit or engage with community partners, school staff and each other.
The evening began at 5:30 p.m. with an opportunity for everyone to "break bread" together. All families were invited to enjoy chili and a bun with veggies, cookies and coffee and hot chocolate. The gymnasium was full of hungry families who appreciated the meal served by school staff and the opportunity for conversation with each other and community partners.
Following the delicious supper prepared by School Nutrition Coordinator Jason Hamilton and Community Coordinator Terri MacPhail, all families were invited to tour the Trade Show of Community Agencies. The hallways of Elsie Mironuck were transformed into areas of learning and discussion. Each agency had handouts, referral forms, pamphlets, draw prizes, informed and passionate volunteers, and information to share with all of the families.
The agencies that were present at the event included Fox Valley Counselling Services, Catholic Family Services, United Way, PFLAG, Four Directions, Open Door Society, Planned Parenthood, KidSport, Jumpstart, TRiP, Rainbow Youth, Ehrlo Sport Venture, REACH and 211 Sask.
This was an opportunity for families to come out for supper, engage with the school community and to ask questions of the school's community partners to gain more information. In many cases, families didn't even know that some of the community partners were accessible to them.
Special thanks go out to our school counsellors for all of their coordination and support in helping to plan this evening. Thank you also to Tom's Independent Grocery and the School Community Council for their generous donation of both ingredients and money towards the supper, as well as to SCC parent Jamie Berquist and Second Cup for donating the coffee and hot chocolate. The event was a huge success because of the many staff members who gave of their time to volunteer to serve food or provide children's programming.
The following quote by a parent truly sums up the evening. "This was the best night you have ever had here at Mironuck. We really needed this and I now have so many new things to do and look into for my kids. Thank you! Thank you! Thank you!"