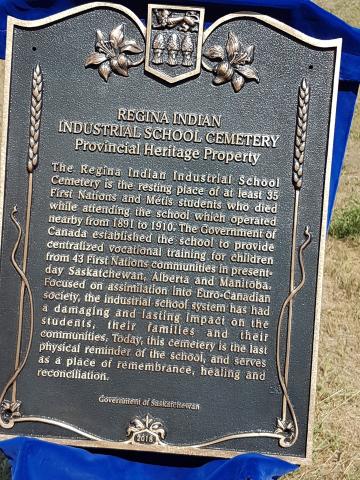 NOVEMBER 1, 2022 -- On the chilly afternoon of Friday, October 14th, the Grades 7/8 students at Coronation Park Community School were guided on a walk of the Regina Indian Industrial School (RIIS) cemetery site by Bill Wall. The visit was in recognition of Secret Path Week that commemorates the legacies of Chanie Wenjack and Gord Downie from October 17th to 22nd.
The students and school leaders learned about Regina's residential school that was operated from 1891 to 1910 with students from some 43 First Nations on the Prairies. The cemetery, where 35 to 40 children are believed to be buried, is located on Pinkie Road in northwest Regina and has Municipal as well as Provincial Heritage Property status.
Mr. Wall provided a clear and compassionate history of the cemetery site to the students and led them on a memorial walk, casting tobacco in memory of those who were lost and, until recently, forgotten. For information about the RIIS Commemorative Association Inc., visit www.facebook.com/RIISCommAssocINC.