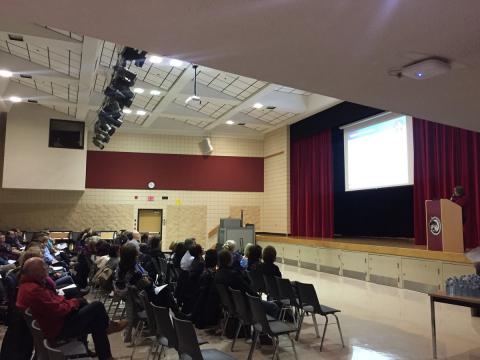 The SCC Forum with Trustees was held on the evening of November 20th at F.W. Johnson Collegiate. There were more than 140 people in attendance, including SCC members, principals and vice-principals, Division Office staff and trustees.
Chairperson Katherine Gagne brought opening remarks and welcomed everyone to the forum. Director Greg Enion shared information on the "big rocks" and the Education Sector Strategic Plan, and Dr. Debbie Pushor, professor from the University of Saskatchewan, gave a presentation on parent engagement. Four break-out sessions were formed prior to the forum and attendees registered and chose their preference of session. Sessions were led by principals and vice-principals, and note takers were also assigned to each group to gather discussion points.
The forum included the following four break-out sessions:
I'm New to the SCC! - A Roadmap on how to Navigate the SCC World
Networking with your SCC through Social Media
Parent Engagement = Student Success (Getting Parents Involved)
Sharing the Fun in Fundraising
Information was gathered from the break-out sessions and a summary report was compiled. The summary report was emailed to all SCC chairs and principals, along with a link to an online survey inviting attendees to provide us with feedback on the forum.
Thank you to the session presenters for leading the SCC members in the discussions and to the note takers for gathering the information. It was a very informational and successful event!