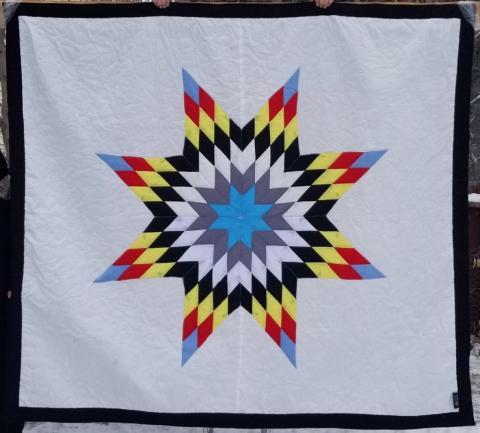 MARCH 16, 2023 -- A blanket is defined as "a large piece of woolen or similar material used as a bed covering or other covering for warmth" (Oxford University Press). However, the simple commodity known as a blanket has different significances depending on the cultural or ethnic background.
Indigenous cultures across North America made and used blankets in different ways depending on their ecological surroundings. Some blankets were made of various plant fibres found in their environments, while others were made of animal skins from hunting, and some were made of a combination of both plant and animals. Indigenous blankets also had their own evolution of development as settlers and traders moved westward and the country was expanded for the Canadian Government.
The first and most famous of all blankets is the Hudson's Bay point blanket, which was highly traded, beginning in the 1700s. This wool blanket is very recognizable with its design of green, red, yellow and indigo stripes on a white background. Indigenous people liked the wool blankets because they were easy to travel with and were not as heavy as animal blankets. The Hudson's Bay blankets were warm even when wet. The other popular item to make out of Hudson's Bay blankets at this time was a Capote, a hooded coat worn by Indigenous and Métis people, as well as Voyageurs.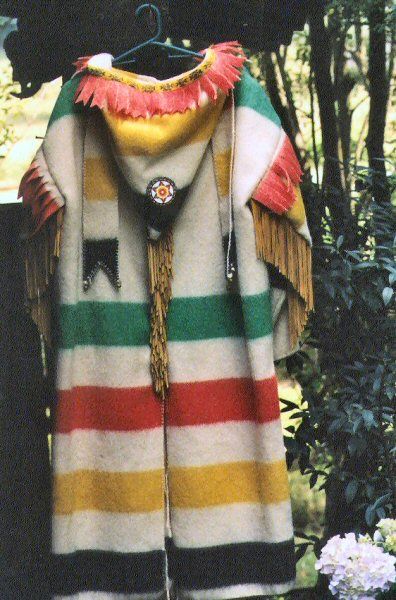 The West Coast people also had their own version of blankets. Before the arrival of Europeans, West Coast societies used cedar to weave blankets. Each community had its own weaving techniques. To waterproof the blankets, they would use pine pitch or spruce gum. Another type of blanket that was made on the West Coast was Button blankets. These blankets had the decorative crest of the family clans, and the perimeter of the blanket was sewn with buttons made from mother of pearl.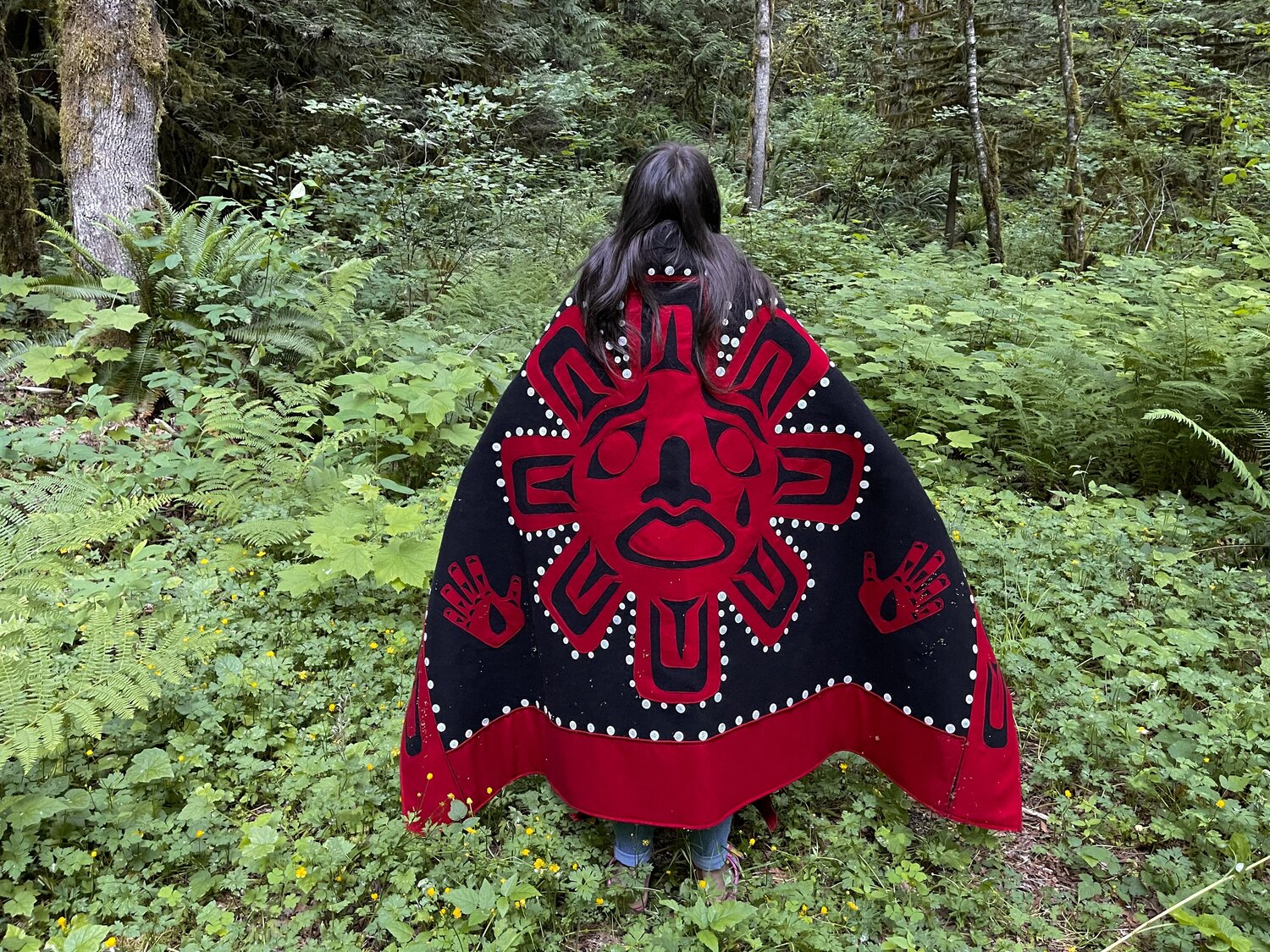 A Chilkat blanket is another illustration of Northwest Coast blanket weaving. Strips of cedar bark and mountain goat hair were used. Before the arrival of Europeans, the materials were dyed by natural resources and these blankets were finger woven, generally taking a year or more to complete.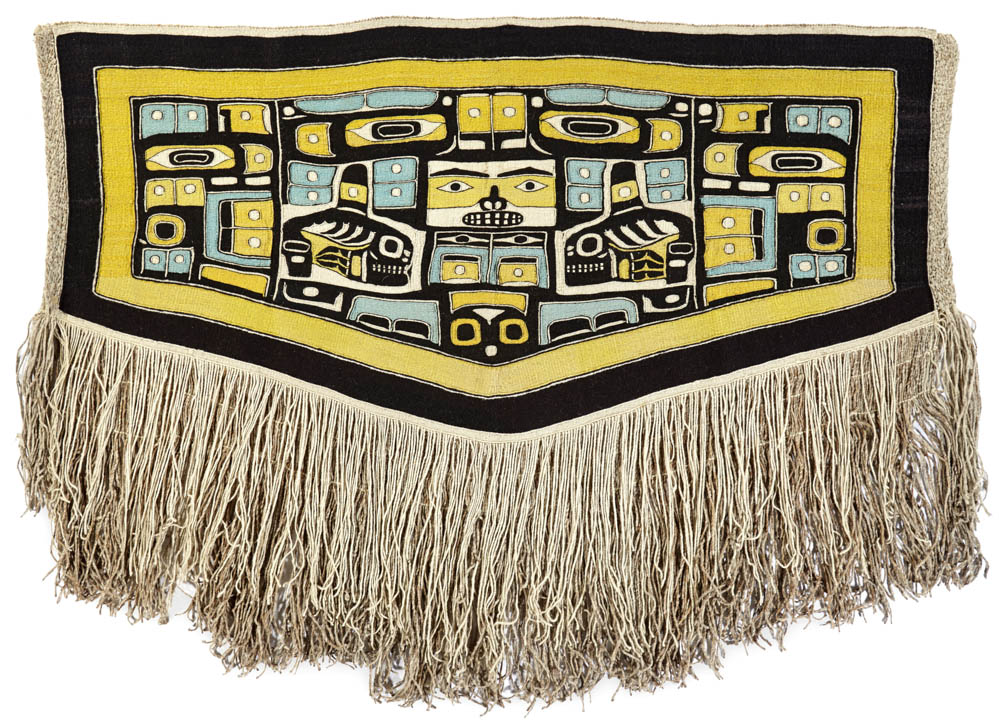 On the Plains, a buffalo robe was used as a covering to keep warm. Buffalos harvested during the winter months were the best to use as a blanket. The buffalo was also used for ceremonial and ritual uses and other pictorial documentation.
Once settlers started moving west, Indigenous people started to make the transition from animal skins to light-weight cotton and wool material. In residential schools, one of the domestic skills taught was sewing. Indigenous people took to creating beautiful works of art that incorporated many math concepts in the design of a Star blanket. There are different types of Star blankets depending on the community. The points on the Star blanket have different meanings. The colours and designs have special meanings to the one who creates the blanket.
A few books that are great for classroom use are Button Blankets by Sally Williams, My Star Blanket by Tanisha Chartrand, and The Making of a Star Blanket by the Manitoba First Nations Education Resource Centre.
Star blankets are given away for various reasons and are to commemorate an individual's accomplishments. At the end of January, Albert Community School honoured one of its own; a staff member retired and the SCC decided that a Star blanket would be the appropriate gift for years of service and dedication to students. A Star blanket was draped over the receiver's shoulders by two Grade 8 students who the retiree had known since the students were in Kindergarten. A touching display of mutual respect and sadness occurred because they all knew they would no longer see each other every day.
Change is inevitable at any age, and change is just another direction to travel on this journey we call life.
- Submitted by Natalie Agecoutay-Sweet (Indigenous Advocate, Albert Community School)