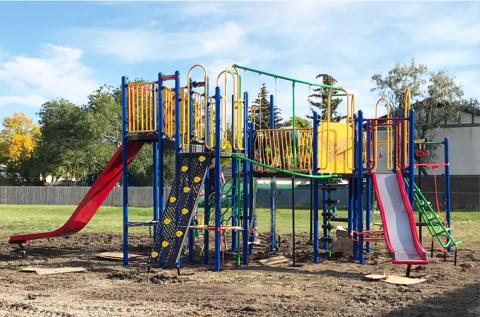 JUNE 11, 2020 -- As a result of the Government of Saskatchewan's Phase 3 of the Re-Open Saskatchewan Plan, Regina Public Schools playgrounds and play structures will be open to the public as of June 12, 2020 and we will continue to follow the direction of public health experts.
All users of playgrounds are encouraged to follow the Government of Saskatchewan guidelines so that children and adults, as well as school staff can keep safe. Guidelines are available here.
People exhibiting signs of illness should not enter parks or playgrounds.
Hands should be washed with soap and water, or with hand sanitizer, prior to and after using playground equipment.
All users should refrain from touching their faces or others while on playground.
To prevent potential virus spread to beyond your neighbourhood, only visit and use playgrounds close to your home.
Playgrounds and play structures will not be sanitized. Parents/caregivers should take the time to discuss playground hygiene and safety with their kids and encourage hand washing or use of alcohol-based hand sanitizers before and following all visits to school playgrounds.