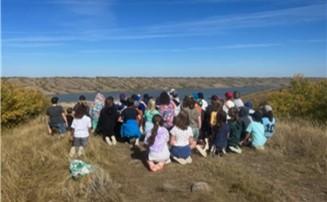 JANUARY 10, 2023 -- Another year of the land-based program at École Centennial Community School is well underway! Staff are happy to report that they have added another class this year so now have a Grade 4 and a Grade 6 Land-based Program. These last few months have been busy with buffalo teachings and Métis Month with Métis art projects and hide preparation.
The Grade 4 class learned about Christi Belcourt, a Michif (Métis) visual artist best known for her acrylic paintings, which depict floral patterns inspired by Métis and First Nations historical beadwork art. Students created dot art on a rock and then created a clay figure that represents humility, one of the Seven Grandfather Teachings. The students chose these objects based on something that would always love them no matter what. Lots of students made teddy bears, as the bears have given them a sense of comfort and love.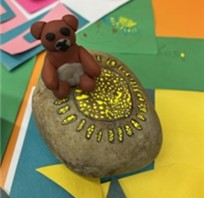 The Grade 6 class had the opportunity to do some hide scraping. These students showed perseverance and determination to get three hides scraped in two days and got to use traditional tools (moose leg bones.) The class was also lucky to have a couple of visitors (MLA Derek Meyers and SaskEnergy's Allix Schweitzer) come join them with the hides.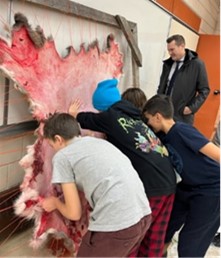 Moving forward in the next couple of months, students will be learning with the STARLAB equipment, tanning the hides, studying the history of snowshoes and participating in more land-based opportunities at Muscowpetung First Nation.
Below are some comments from past and present land-based students.
"What I have appreciated most about the Land-based Program is the community my fellow students are making with me." (Grade 6 student)
"That I can participate in the Land-based Program at school and learn about the different cultures. Also, to play the First Nations and the Métis games and teach them to the little kids. We also get to teach the little kids and the FIAP class to jig. I love this program so far and I am so excited to continue moving forward doing Land-based this year and building a stronger team with my class. I appreciate being in Land-based and the people who I am doing it with this year." (Grade 6 student)
"The Land-based Program was a very inclusive program and it got classes out of classrooms and onto the land. It also helped build bonds between classmates and just overall made the whole class much closer to each other." (Grade 7 student)
"Learning all those things hands on was a really cool way of learning and made it even more interesting. You could tell that everybody in our class last year got along way better from being on land together most of the year." (Grade 7 student)