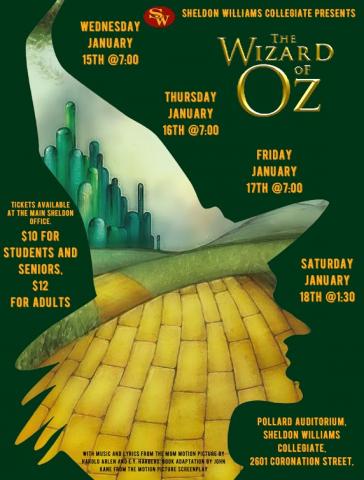 DECEMBER 16, 2019 -- Sheldon-Williams Collegiate is proud to present a high school production of the timeless classic, ​The Wizard of Oz.
This year marks not only the 80th anniversary of the enduring musical comedy but also the inception of a cutting-edge academic program at Sheldon-Williams Collegiate (SWC).
More than 75 SWC Spartans from Grades 9 through 12 participate in a two-hour class devoted to the production of a musical. Led by teacher-directors Krista McDivitt, Sarah Keefe, Brit Peters and Brianna Levesque, students are challenged to explore the myriad diverse elements of production.
Those who attend SWC's production of ​The Wizard of Oz will be dazzled by some of the special features that make this adaptation noteworthy.
Special features include:
Students have designed pre-show video features, as well as interactive opportunities for the audience, in the style of the Cineplex ​Timeplay​.
Many set pieces were constructed in intricate, three-dimensional styles.
Costumes have been upcycled and designed in consultation with our school's Cosplay Club.
Cast members led in the choreography of multiple dance numbers.
Lighting, sound, and audiovisual technicians have been privileged to workshop with Hannah Kirby and Eryn Griffith of the Globe Theatre.
Many of the acting roles have been double-cast, leading to considerable collaboration in character development among actors.
Tickets are available for sale at the Sheldon-Williams Collegiate main office. Admission for students and seniors is $10; admission for adults is $12. Tickets are available for purchase in the Sheldon Williams Collegiate or purchase tickets from these outstanding local businesses:
● Dessart Sweets (Cathedral) - 3036 13th Avenue
● Houston Pizza (Lakeview) - 3422 Hill Avenue
● Good Earth Coffeehouse (Grasslands) - 110-4830 Gordon Road
Performances will take place in the Pollard Auditorium, Sheldon-Williams Collegiate (2601 Coronation Street):
Wednesday, January 15 at 7 p.m.
Thursday, January 16 at 7 p.m.
Friday, January 17 at 7 p.m.
Saturday, January 18 at 1:30 p.m.
To schedule a class visit, or for more information, please contact Brittany Peters: (306) 530-5342.