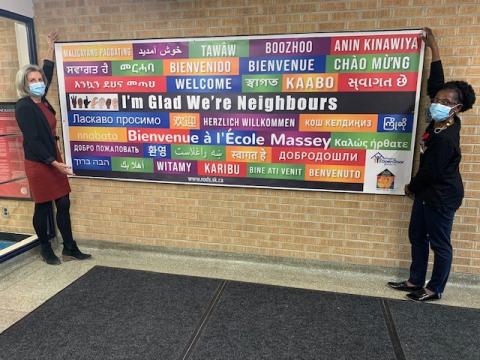 NOVEMBER 24, 2021 -- When École Massey staff were looking to make the entrance to the school more welcoming, Vice-Principal Maxine McKenzie-Cox shared some knowledge she received at a conference that focused on inclusion. The speaker stressed the positive impact that seeing one's own language would have on visitors to any building.
The idea led to a collaboration with Regina Open Door Society, who already had the I'm Glad We're Neighbours campaign up and running for Regina residents. A quick survey of students asking which languages were spoken at home meant adding other languages (including the ASL sign for "welcome") to the 10' by 4' banner.
The banner is now displayed in the school's front entrance to welcome all current and future members of the Massey Mustang community!