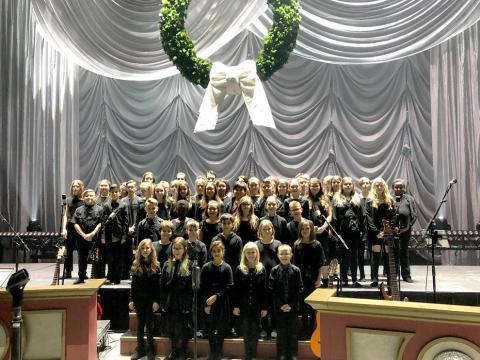 The members of the Douglas Park School Grades 5-8 choir, under the direction of Sharon Meredith, Nysa Ochitwa and Danielle Dumelie, have spent the last couple of months preparing for a once-in-a-lifetime experience!
On December 10th, the students took to the stage at the Conexus Arts Centre to perform in "The Tenors: Home for the Holidays" Christmas show. The choir members had the opportunity to perform three times on stage with The Tenors, a world-renowned vocal group who have performed for world leaders and the Queen.
In addition to preparing for this concert opportunity, the students and their directors also entered the CBC Music Class Challenge and placed in the top 10 in the MusiCounts Passion Prize. To view their performance of "Giants" by Lights, please visit https://www.youtube.com/watch?v=bYAh1CZ2TxU&list=PLwz1WTRJS24LawavqFDASCVWRc6X3ZQ14&index=7&t=0s.
Congratulations to the Douglas Park School choir members and their directors for their hard work and amazing achievements!