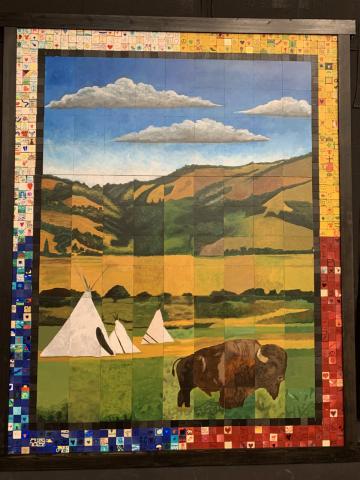 JANUARY 3, 2023 -- Winston Knoll Collegiate students participated in a collaborative art piece as part of their actions towards reconciliation.
Project of Heart art collaboration is an inquiry-based, hands-on artistic journey of seeking the truth about the history of Indigenous people in Canada. Krista Sherman, the Indigenous Advocate at Winston Knoll, spent time with all students teaching them the history and legacy of residential schools in Canada and commemorating the lives of the thousands of Indigenous children who died as a result of the experience, but also remembering the survivors. Students were encouraged to paint a symbol, image or word that represents reconciliation to them.
With help from Chris Riffel's art class, the students collaborated to create the centre image. The mosaic mural of the bison and tipis in the valley was created to represent Treaty 4 territory. Prior to hanging the art piece, Winston Knoll had a special presentation and hip-hop performance from Justin "Jah'Kota" Holness to remind those in attendance of the importance of the land and the bison.
Jah'Kota's heritage bridges Jamaica and the Nakota First Nation. He believes art, music and culture are some of the highest forms of human intelligence. Born and raised in Winnipeg, his life experiences have taught him to use his talent to be the change he wants to see in the world. Jah'Kota helped Winston Knoll name the artwork "Buffalo Spirit" in consideration for the immense impact the buffalo has on the culture and sustainability of life for Indigenous people. He highlighted the significance of the land to showcase the way in which it provides a simple, yet spiritual, economy for the people.
Kiah Holness is a high school ELA teacher at Winston Knoll. She is also Justin Holness' niece. Throughout her life, Justin has influenced and inspired her through the experiential teachings of the Indigenous ways of knowing and being. Along with her own experiences as a biracial educator, she aims to educate by amplifying marginalized voices in the classroom and beyond. Justin and Kiah had created similar events before but it was beautifully overwhelming to create this event for over 300 students and teachers with the support of Krista Sherman.
The event was even more monumental in their lives because key family members were in attendance who were essential in instilling the beliefs and values in both Justin and Kiah. Not only was it truly a special moment for the uncle and niece duo, but it was incredible to see the residual connections that were created between other racialized students in her classroom and beyond. It was an experience they both will forever treasure. Justin created an experiential survey for performance and presentation feedback and 27 out of 30 (90%) of students in Kiah's ELA 20 class anonymously rated the performance 10 out of 10!