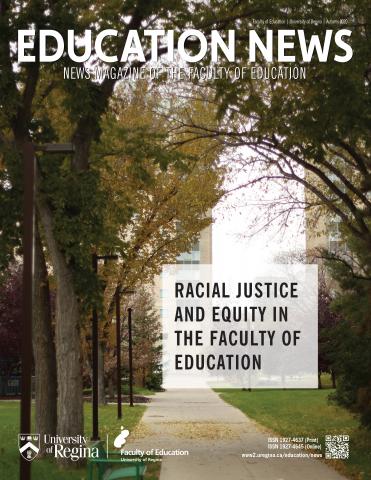 DECEMBER 22, 2020 -- Congratulations to Jessica Irvine, Core French educator with Regina Public Schools since 2008, for receiving the CSSE-SCEE Cynthia Chambers Award for her master's thesis.
She successfully defended her thesis, Writing and Teaching Curriculum With Relationships in Our Place: A Critical Meta-Analysis of Saskatchewan Core French Curricula's Cultural Indicators, in November 2019 and was just recognized in the University of Regina Faculty of Education news magazine, Education News, Autumn 2020 issue (pages 16-17).
Also acknowledged in the Autumn 2020 issue (page 19) is Shana Cardinal, a school counsellor with Regina Public Schools. Shana, a PhD candidate in Education Psychology, has been renewed as a recipient of an Indigenous Peoples' Heath Research Centre/Saskatchewan Centre for Patient Oriented Research award in the amount of $30,000 for her doctoral research. Her focus is on the mental health of Indigenous children and youth. Congratulations on your outstanding work!