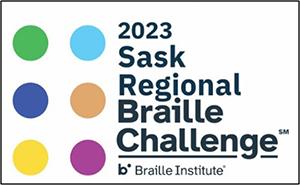 JUNE 7, 2023 — On March 2, 2023, the Program for Students with Visual Impairments (PSVI) at Arcola Community School hosted the inaugural Regional Braille Challenge for Saskatchewan. Pamela Tarr, Qualified Teacher of Students who are Blind or Visually Impaired (QTVI), did an amazing job of researching, promoting and organizing this event.
Students from Greater Saskatoon Catholic Schools and Arcola Community School were thrilled to participate in the preliminary challenge of the international competition hosted by The Braille Institute of America, Inc. (Los Angeles, California). Students participated in a variety of timed skills challenges, including reading comprehension, spelling, speed and accuracy, proofreading, and charts and graphs.
At Arcola, the day began with a motivational talk by Ashley Nemeth, Provincial Director, CNIB Saskatchewan and Manitoba. Students then rotated through a series of stations, which were run by staff from PSVI.
Many thanks to PSVI's braillists (Lindsay Babiarz, Angela Kayter and Lisa Marwick) for scoring the contests. Winners were announced on March 28, 2023, at an Arcola Community School virtual awards ceremony.
Bravo to the following winners:
Grades 1 and 2 (Apprentice)
Huda Al Hasan
Fatho Mohamud
Raniya Shahzad (Saskatoon Catholic Schools)
Grades 3 and 4 (Freshman)
Isaiah Gauthier (Saskatoon Catholic Schools)
Fletcher Bryant McDonald
Grades 5 and 6 (Sophomore)
Congratulations to everyone who participated in this successful event!
Finally, a huge thank you for prizes and snacks from the following sponsors: CNIB, The Braille Institute, London Drugs East, Zippity Zoom Toys, Freshly Pressed Printing, Donna Maier, Sandy Pelletier, Gail Zerr, Ian Zerr, Marian Maier and Pamela Tarr.