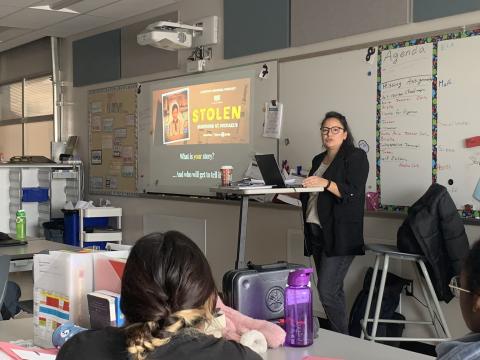 JANUARY 3, 2023 -- On November 27th, the Grade 8 classes at École Wascana Plains School were honoured to have Connie Walker share her story and craft on podcasting. Connie Walker was welcomed to the school by her niece, who provided the Regina Public Schools land acknowledgement as well as a history of the work done by Connie Walker.
Connie Walker is an award-winning journalist, most notably known through her famous podcast "Missing and Murdered" as well as her most recent podcast "Surviving St. Michael's." Connie presented her story to the students and explained the power of story and asked questions pertaining to who gets to tell someone's story. Connie then proceeded to explain how she became interested in joining journalism after she witnessed the negative portrayal of Indigenous people in media. This eventually led Connie to create her now famous podcasts.
Connie explained how she gravitated towards podcasts to share stories because she was able to provide context which you cannot provide in a 30-second news clip. Connie then went on to explain the art of podcast making. After a captivating 45 minutes where the 60+ Grade 8 students sat enthralled by Connie's natural storytelling, she opened the floor to questions from the students and spent another 30 minutes diving into powerful conversations. The students are working on a collaborative literacy assignment where they create their own podcast, so they were excited to have the opportunity to interview an expert to support their projects.
It was a privilege to have Connie Walker share her knowledge and stories with the Grade 8 students. As we continue to learn about truth and reconciliation and the Calls to Action, it was a powerful experience to speak with someone who is making a big difference ensuring the truth is shared. A special thank you to Connie Walker and the Walker family for providing this powerful learning experience.