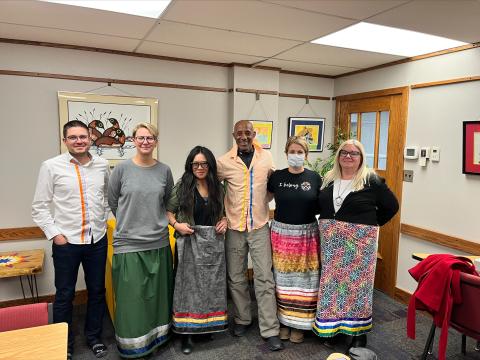 JANUARY 4, 2023 -- The Regina Public School Board recently engaged in action towards reconciliation. On November 28th, six of the seven trustees gathered at Division Office to create their own ribbon shirt/skirt. Lacey Weekes was unable to attend; however, she was involved in an earlier event at École Centennial Community School.
Vanéa Cyr, Supervisor of Indigenous Education, enjoyed getting to know the trustees a little better. She loved seeing how Ted Jaleta is not only a fast runner but also a very fast sewer. Sarah Cummings Truszkowski is very studious and goal orientated. Adam Hicks is very skill orientated, especially when it comes to winding a bobbin and threading a machine. Cindy Anderson said it was very relaxing and therapeutic. Our newest trustee, Tracey McMurchy, was so proud of her finished product that she forgot about her sewing wounds. And Tara Molson did such an amazing job that she is going to gift the ribbon skirt she made.
It was an amazing day of learning a new skill and learning about one another. A special thank you to all the trustees for participating in this important event.