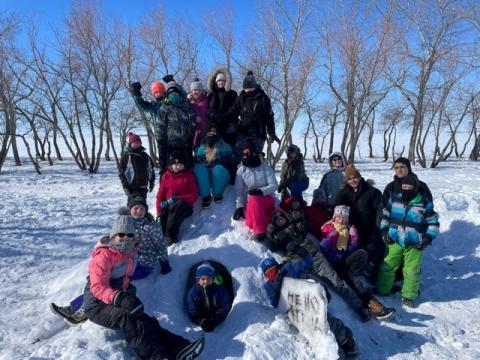 APRIL 6, 2022 -- As the Grade 6 students at École Centennial Community School continue their land-based journey, they have experienced many obstacles related to COVID and to our lovely Saskatchewan weather with -40 temperatures. However, no matter the obstacle, the Grade 6 students have demonstrated persistence and resilience.
Over these last few months, the group participated in a story walk around the school yard using snowshoes. The Grade 6 students also taught the younger grades how to snowshoe and the importance of the buffalo. They also got to experience how to tan hides!
In March, their luck finally changed! The Grade 6 students were able to experience three days on the land with their winter camp. During those three days, the students braved the cold to learn how to make winter shelters, how to play traditional First Nations games and how to make their own fire. They also participated in traditional teachings such as Cree classes and The Fire Story.
"Building a fire was the hardest and worst part of this trip," said one student. "My group was one of the fastest groups to build the fire, but we had the hardest spot to start a fire because the wind kept blowing it out. I was proud of my group for continuing to work on the fire until we got it started!" Another student made the following comment: "Once our fire was going, we added a can of snow to the fire and let it melt so that we could boil a noodle. Once our noodle was cooked, we tied a knot in it."
Special thanks to Indigenous Education Coordinator Jeff Cappo and the following Centennial staff: Grade 6 Teacher Jeff Wisniewski, Vice-Principal Rochelle Rugg and Phys. Ed. Specialist Larissa Garner.
What follows is some feedback from parents about this new land-based program.
"The fact that the children get to learn from and interact with First Nations individuals and Elders,  hearing their stories and history, learning about their culture and language, coupled with actual  hands-on field trips is a wonderful approach because the First Nations have such a strong connection to the land."
"One thing that surprised me was that she was able to identify and gather wild sage while we were walking/pheasant hunting near Oungre, SK this fall. She ran up to me all excited with a small bunch of sage and said, 'Daddy, look! I found wild sage!' Then she proceeded to tell me what it is, how the First Nations would use it, why it was important to them, and what we could use it for at home."
>"My child is excited to do each class, no matter what the topic is. There is no boring class; it is all intriguing and exciting and he is always excited for the next class. It has all been incredible for him."
"Preparing animal hides was something totally new for him to try and outside his comfort zone. At first, I was surprised to hear how much he enjoyed it!"
"Educating about the Indigenous culture will make kids walk away with a whole new respect for Indigenous people and their culture, and we desperately need that (and we need that to help heal generations). Indigenous people deserve to see this class taught across all provinces!"