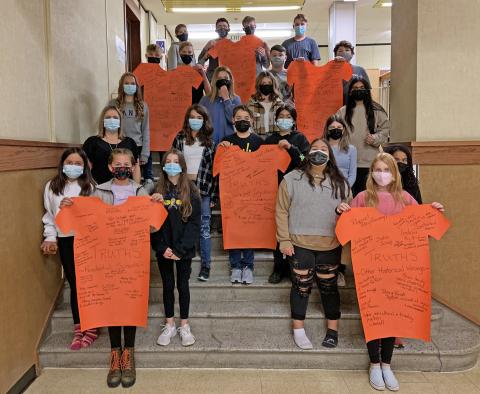 OCTOBER 27, 2021 -- Raelynn Smith's Grades 7/8 class at Lakeview School has focused on learning more about truth and reconciliation over the past number of weeks in their classroom. They have worked in groups to demonstrate their learning and have created orange T-shirts out of paper to share the information with others in the school.
The students learned truths about residential schools in Canada. They learned about the discriminatory Indian Act that is still in place today. They examined copies of historical documents to learn about the pass and permit system and then read an article about farming policies meant to repress Indigenous farmers. Students also researched current social issues and injustices that plague Indigenous people today.
After learning more about the truths about Indigenous people, students turned to reconciliation. They talked about how we honour those who have served Canada in times of war, military conflict and peace on Remembrance Day to generate ideas about how we can also honour those who attended residential schools. Given that 2021 was Canada's first National Day for Truth and Reconciliation, there were a lot of ideas to be found online. Students learned about how the Indian Residential School Settlement led to the government apology and the development of the Truth & Reconciliation Commission. Using CBC's Beyond 94 interactive website, students divided and studied the 94 Calls to Action to discover that to date, only 13 Calls to Action have been completed. After learning about the 94 Calls to Action, students then researched personal acts of reconciliation. While many of these ideas echoed the ways to honour survivors, students did find additional ways to support Indigenous people as Canada comes to terms with its hurtful past.
Orange Shirt Day is not new to the Grades 7/8 students at Lakeview School, but this experience broadened their understanding of the truths of Canada's shared history and how they can participate in our collective reconciliation.