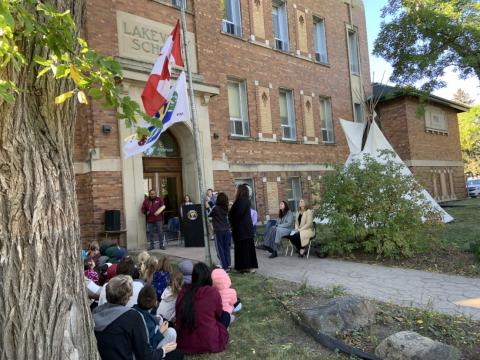 OCTOBER 3, 2022 -- The Treaty 4 flag is now flying at Lakeview School! As the sun was rising on September 21st, staff joined Indigenous Education Coordinator Jeff Cappo on the front lawn to learn how to put up a tipi. After the tipi was raised, Elder Frank and Knowledge Keeper Joely BigEagle-Kequahtooway performed pipe ceremonies and blessed the Treaty 4 flag. Participating in the pipe ceremony was a first for most staff members and was a very special part of their day.
Once the students arrived, the entire school assembled on the front lawn. Elder Sharon said a prayer followed by speeches from Principal Laurie Ellis, Superintendent Lois Herridge, SCC Co-chair Shannon Williams and Trustee Adam Hicks.
Jeff drummed and sang the Treaty 4 song while two Grade 6 students raised the flag. Once the flag was at full mast, Jeff sang the Victory song.
After the ceremony, students and staff were so pleased to spend the day listening to and learning from Elder Sharon. Thank you to Cory Antonini and Shayne McMillen (Coordinators in Student Achievement) for live streaming the event for the community.