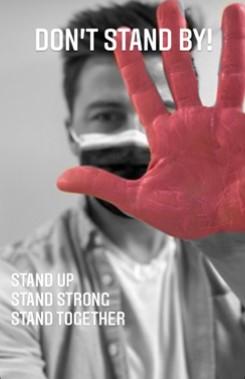 MARCH 25, 2021 -- Fredrick Kohuch, Kindergarten teacher at Rosemont Community School, spearheaded a collective anti-bullying project for roadrunner staff and students in support of the teaching and learning being done in support of anti-bullying.
During this project, staff and students could be seen taking photos of themselves holding their hands out in front of their faces, displaying a "stop motion" signal. The photographs show student hands painted in pink with the rest in black and white. The purpose of this edit is to capture the attention of the viewer and to highlight the various captions: "I'm an Advocate for Anti-Bullying;" "Stop Bullying;" "Don't Stand By;" "Stand Up" and many other slogans that spread awareness for anti-bullying.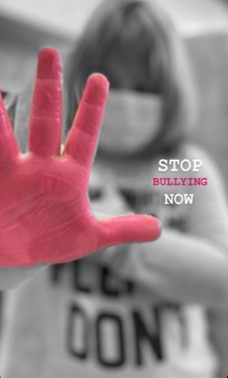 The goal of this project was to provide students with an increased sense of comfort and security. All too often, we as adults are unable to catch things "behind close doors" while tackling this ongoing social situation. Rosemont Community School staff prides themselves in creating an inclusive holistic environment to provide every student with a sense of self-worth and identity. Staff members eagerly rallied around Fredick's brilliant visual project, which is now displayed in the school to help spread awareness and advocate for all students. The hearts of staff shone as their roadrunner future leaders were engaged in this movement and took the onus on themselves to stand up and embrace their voices.
"Anti-bullying projects like this give us educators an opportunity to continue to spread awareness of this ongoing social situation. These projects create a positive climate within our schools, which allows for students to embrace who they are as individuals, and provides them with a sense of self-worth, identity and voice. Education is a platform for inclusive learning; it's a vehicle to scaffold children's critical thinking and development as a whole, to gain and grasp new concepts and understandings of themselves and the world in which they reside. Education is a guide in which teacher and student relations are met with an open platform so the child can learn in a positive, inclusive environment. Anti-bullying is an issue that continuously needs to be talked and shared about. If we as teachers and mentors take part, then our students will be more likely to engage and view this as serious note and not be ashamed to step up and take action." – Fredrick Kohuch