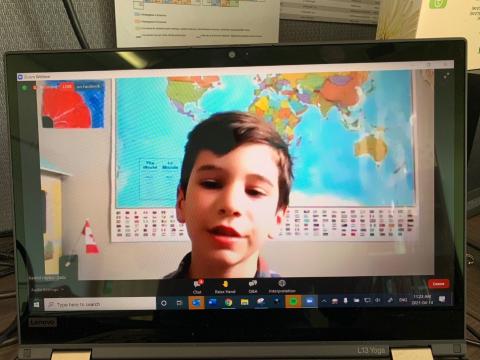 APRIL 29, 2021 -- Rashid Heydar-Zada, a Grade 4 student at Harbour Landing School, participated in a virtual financial literacy competition and part of the Talk With Our Kids About Money program. This competition was open to Canadian students in Grades 4 to 8, and they have been working on their projects for several months.
Rashid was one of three Saskatchewan students chosen to go to the semi-finals and was the only Saskatchewan student to be selected to go to the finals where he competed against six other students from across Canada.
On April 14, 2021, Talk With Our Kids About Money Day, Rashid presented his project at the National Virtual Money Fair. His project focused on how students can earn money by doing small jobs in their homes and communities and how they can utilize the funds they earn effectively and responsibly. There were awards for first, second and third place, including a $2,000 grand prize! Rashid, an EAL student who arrived in Canada less than two years ago, was the youngest participant and represented Saskatchewan and Regina very well.
Congratulations to Rashid! The staff and students at Harbour Landing are very proud of his efforts!