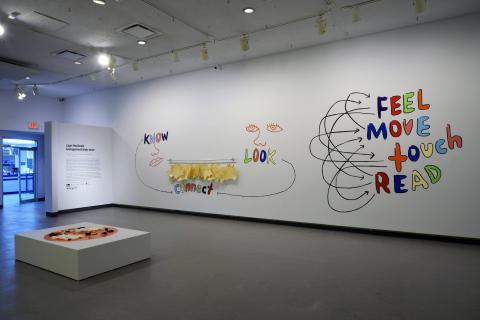 JUNE 10, 2021 -- In 2019, The Deaf & Hard of Hearing (DHH) program at Winston Knoll Collegiate was approached by The Dunlop Art Gallery to collaborate with artist Logan MacDonald on an upcoming art exhibition. Logan MacDonald is a queer visual artist and curator from Newfoundland. He identifies as a settler with European/Mi'kmaq ancestry.
Logan is part of a unique yet growing community of settler-identified, newly federally acknowledged Mi'kmaq from Newfoundland, who are looking at ways to revive their Mi'kmaq culture. Logan has toured extensively, exploring Indigenous identity in Canada. Logan has degenerative hearing loss and wanted to explore how hearing loss impacts individuals' ability to learn about their culture as well as Deaf culture.
In December 2019, Logan visited the DHH classroom to learn from the students about their experiences with hearing loss. After discussing student experiences, Logan guided the students in making stories using various artifacts. From that shared experience, the students created large paintings to illustrate environments that were Deaf friendly and inviting. Logan planned to have his art installation on display in May 2020 but COVID-19 had other plans.
In February 2021, the DHH program was fortunate to get to meet with Logan again virtually for a series of creative sessions, as they worked together to complete his gallery exhibition.
Once again, COVID-19 interfered in Logan's grand opening but his exhibition kawingjemeesh/shake hands has been virtually displayed at Dunlop Art Gallery since April 16th and will run until June 26th (with the easing of restrictions, students are hopeful that they will be able to visit the gallery with their families on their own time soon). There will be a final presentation of the exhibition with Logan and the students (virtually) on Wednesday, June 16th at 12:00 noon via Dunlop Art Gallery's website.
Everyone in the DHH program feel so fortunate to have met Logan, and they look forward to working with him on future projects.
For a live tour of the exhibition, visit https://www.instagram.com/tv/COQo06BnL43/?utm_source=ig_web_copy_link.
For gallery display, visit 
https://dunloplearning.ca/exhibitions/logan-macdonald
.
The CBC Morning Show interview can be found at 
https://www.cbc.ca/listen/live-radio/1-66-the-morning-edition-sask
.