Regina School Division No. 4 of Saskatchewan (Regina Public Schools) welcomes students and families from around the world. Our school division values the cultural and linguistic diversity of all students attending our schools. We are committed to providing the highest quality of educational services to all students, including support for students learning English as an Additional Language.
School Registration
Dependent children are eligible to attend Regina Public Schools provided both parents and children have valid status in Canada.
Canadian students having at least one parent who is a Canadian or a permanent resident of Canada may register at their neighbourhood school. Please use the School Locator to determine the designated school for your address.
Non-Canadian students, or Canadian students whose parents are not Canadian citizens or permanent residents of Canada, will be registered through the Newcomer Welcome Centre. The Newcomer Welcome Centre can be contacted at 306-352-3500 or nwc@rods.sk.ca. You will need:
Immigration documents for children and parents (PR card, permits, etc.). Permits must be valid for Regina.

Passports for children and parents

Original school transcripts translated into English (for Grades 10 and up only)

If both parents are not currently in Regina: a

Declaration from Non-accompanying Parent/Guardian for Minors

that has been notarized

Birth certificates (for children only)

Rental agreement or confirmation of home ownership (mortgage statement, Land Titles document or City of Regina tax assessment)

A second document to confirm your address (one of the following: void cheque from bank, driver's license, or a utility bill such as telephone, cable TV, water, gas/energy)

   A Confirmation of Enrollment for full-time degree or diploma classes at a post-secondary institution in Regina and a receipt for tuition paid (only needed when a parent holds a study permit). These two documents will be required at registration and at the beginning of each semester.
The schools your children attend will be determined by your address here in Regina. Transportation is provided only for elementary students residing in designated transportation zones. Please use the School Locator to determine the designated school for your address.
Grades (Kindergarten to Grade 10) are determined by year of birth, not by grades previously completed. Grades 11 and 12 will be determined after the Ministry of Education has assessed original transcripts and granted credits.
For further information about the schools in our school division, please visit our webpage: http://www.rbe.sk.ca/our-schools
A student who wants to attend Regina Public Schools as an International Student is welcome to see the following link for more information about our International Student Program and how to apply: https://www.reginapublicschools.ca/international_student_program
Education in Saskatchewan: A Guide for Newcomers is available from the Saskatchewan Ministry of Education in different languages.
For more information on registration for non-Canadian students, please contact welcome@rbe.sk.ca
For more information on requesting Letters of Acceptance for Regina Public Schools, please see the following link: https://www.reginapublicschools.ca/international_student_program
English as an Additional Language (EAL) Learners
Students who are learning English as an Additional Language (EAL) are speakers of other languages who are adding English to their language repertoire. These students may have a wide range of backgrounds. They may have moved to Regina from another country and be fluent in a language other than English, or they may speak a dialect of English that is different from that typically spoken in Saskatchewan.
Students born in Canada may also be learning English as an additional language. Some First Nations and Francophone students may speak a language other than English in their home and community. Immigrant families may continue to speak their first language in the home and with family and friends and their Canadian-born children may come to school knowing some or no English. These children may or may not have developed language proficiency in their home language.
Learning support may be provided for EAL students from EAL teachers who help students develop their English language skills. The students attend schools in their neighbourhood where they learn English and the Saskatchewan curriculum at the same time in a regular supportive classroom.
Importance

of

Home

Language

Use
Although it is important to support English language acquisition, it is also important for students and families to continue using their home language. A person's home language is the foundation for new languages. Children learning an additional language build on this foundation and transfer what they know about their home language to their new language. Students can also use their home language to help learn academic content even if they are not yet fluent in English. For example, students who can read in their home language can learn academic concepts by reading and writing about them in their home language. Once they understand the concept, they can focus on learning the associated vocabulary in English.
Acquisition of English as an Additional Language
It may take five to seven years for EAL learners to approach levels of fluency that are similar their English first language peers. This means that even students who have been living in Canada for several years may still require EAL support.
It is important to distinguish between social language acquisition and academic language acquisition. Social language can be thought of as conversational skills, often referred to as Basic Interpersonal Communication Skills (BICS). This everyday conversational language generally takes from one to two years to learn and is adequate for day-to-day social interactions. However, BICS skills are not complex enough to support academic learning. Cognitive Academic Language Proficiency (CALP) involves the more complex, specific vocabulary and language structures needed to learn and express academic concepts. This conceptual language often takes from five to seven years to develop, and possibly longer for some students.
Common Framework of Reference (CFR)
The CFR is a language scale that displays language growth along a continuum. It identifies ways in which learners at various levels of proficiency use language to perform meaningful, authentic tasks in the areas of listening, speaking, reading, and writing. The CFR is a strong indicator of the amount of additional language support a student may require to understand and fully achieve the outcomes of an academic subject.
The CFR contains six levels, ranging from the beginner level (A1) to the highest level of language proficiency (C2). For the purposes of EAL support in Saskatchewan schools, the focus for learners is on the first three levels of the CFR scale, A1, A2, and B1, which are further divided into A1.1,   A1.2, A2.1, A2.2, B1.1, and B1.2. A learner who has moved beyond B1.2 has developed a level of proficiency that is comparable to that of their English home language peers, allowing the learner to work more independently in the classroom.
Regina Public Schools uses the CFR levels to report on student progress and guide instruction. On-going assessment is expected to ensure that instructional approaches adjust to student learning needs as they change over the course of the school year. The length of time at each level cannot be predicted as there is no school year equivalency. Because of a range of factors (e.g., prior English exposure, previous education, motivation), each learner will progress at a different rate.
Snapshot

of

Language

Ability

at

Various

CFR

Levels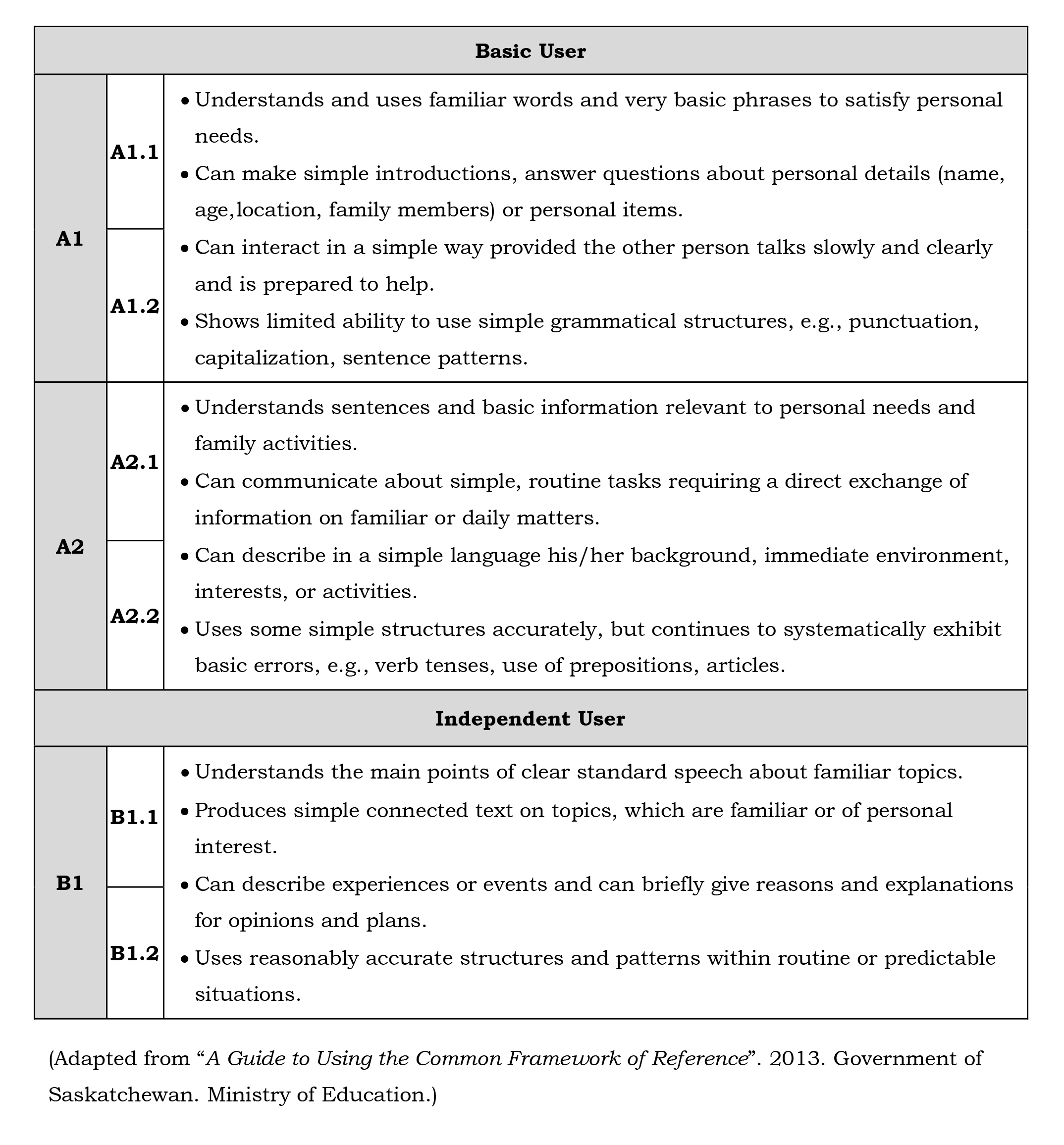 Programs Offered at Regina Public Schools
English Program
The English program is for students who want all classes instructed in English except for other language subjects.
French Immersion Program
The French Immersion program is for students who want to be instructed in French in all classes. English Language Arts starts in Grade 3. Students can begin the program in either Kindergarten or Grade 1. Please see the online link for more information: https://www.reginapublicschools.ca/languages
Pre-Kindergarten
The Saskatchewan Ministry of Education's Pre-Kindergarten Program is a developmentally appropriate early childhood education program for three- and four-year-old children. Space is limited and children who would benefit most from enhanced programming are prioritized for enrolment.
Regina Public Schools offers a half-day Prekindergarten program with a qualified teacher who provides play-based programming for up to16 children from September to June. Programming focuses on holistic child development: social-emotional, physical, intellectual and spiritual development. Regina Public Schools hosts a Pre-Kindergarten program in 24 of its elementary schools.
Families wanting to complete and submit a Pre-Kindergarten application for their child(ren) are encouraged to do so in spring (i.e. April, May, and June), over the summer, and by the end of August. After contacting the Newcomer Welcome Centre if necessary (see Registration above), completed application forms should be submitted at the prekindergarten school that serves their catchment area as identified using the School Locator and Map of Regina Public Schools Pre-Kindergarten School Boundaries/Attendance Area The review of application forms submitted begins in late June and continues in late August with families informed of student selection by the end of September.
Please see the following link for more information on early learning at Regina Public Schools: https://www.reginapublicschools.ca/early_learning
Kindergarten
The Kindergarten program builds on early learning principles with particular attention to the environment and the roles of conversation and play in children's learning experiences. The teacher facilitates inquiry through children's play. Environments are carefully designed to inspire children to wonder, ask questions, and be curious; promote the holistic nature of children's learning; and encourage independence, responsibility, and participation. Please see the following link for more information: https://www.reginapublicschools.ca/early_learning.
Regina Public Schools has a Kindergarten program in all elementary schools, offering full-day Kindergarten on alternating days in most schools. We welcome new Kindergarten students who will be five years of age or older on December 31st of the year they register.
Regina Public Schools also offers French Immersion Kindergarten programs at some of our schools. Please see the following link for more information on our French Immersion program: https://www.reginapublicschools.ca/languages
Grades 1 to 8 (Elementary School)
Grades (Kindergarten to Grade 8) are determined by year of birth, not by grades previously completed. EAL programming is determined by the individual student's strengths and needs, and is identified by frequent, on-going assessment guided by the CFR level descriptors.
Pull-Out Support
EAL classes are offered in small group settings and are designed to increase students' understanding of English grammar and vocabulary with a focus on developing communication skills. The number of sessions per week depends on the student's level of English proficiency and the amount of EAL time assigned to the school. Group size is determined by the number of students at a similar CFR level.
In-Class Support
EAL teachers may also provide some in-class EAL support arranged in collaboration with the classroom teacher. The classroom teacher focuses on content instruction, and the EAL teacher provides language support to the EAL students in the class based on the lesson content.
Grades 9 to 12 (High School)
Students will be placed into the final appropriate grade upon reviewing the student's year of birth and transcripts. For Grades 9 and 10, students are placed in grades based on the year they were born. Grades 11 and 12 credits will be determined by the Saskatchewan Ministry of Education. An original transcript from the school must be presented at the time of school registration along with an official version translated into English. An authorized translator must stamp the translation.
In some cases, students are granted a Grade 10 or 11 credit from the Saskatchewan Ministry of Education even though their level of English might not be high enough to take the Grade 11 or 12 credit. In this case, the student will be required to take a literacy class to bridge the gap in their reading, writing and comprehension skills. This takes extra time, and the student might not complete Grade 10, 11 and 12 in three years.
If a student reaches the age of 18 years during their time with Regina Public Schools, the student may be required to transfer to the Allan Blakeney Adult Campus to complete their schooling.
Students are required to complete 24 credits to meet the requirements for Grade 12 graduation from the regular program as recognized by the Saskatchewan Ministry of Education.  These are a combination of compulsory and elective credits as outlined in the chart below.  Please note that in some instances, students in high school are awarded "standing granted" credits by the Saskatchewan Ministry of Education based on previously obtained credits in their home country.  Standing granted credits are valued at 55%.
Credit Requirements for Grades 10, 11, and 12 (Regular Program—24 Credits)
Grade 10

Grade 11

Grade 12

Minimum 8 credits

Minimum 16 credits

Minimum 24 credits

(5 of which must be at the 30 Level)

Compulsory Courses:

Compulsory Courses:

Compulsory Courses:

English Language Arts A 10

English Language Arts B 10

 

Social Studies 10, History 10 or Native Studies 10

 

Science 10

 

a mathematics at the 10 Level

 

3 electives at Level 10, 20 or 30

English Language Arts 20

 

a mathematics at the 20 level

 

 

English Language Arts A 30 English Language Arts B 30

 

Social Studies 30: Canadian Studies, History 30: Canadian Studies or

Native Studies 30: Canadian Studies

a science at level 20 or 30 *

a social science at level 20 or 30

6 additional elective credits at level 20 or 30

2 credits in arts education or practical and applied arts at level 10, 20, or 30

Wellness 10, Physical Education 20 or Physical Education 30
Note:
• One credit = 100 hours of classroom instruction and a minimum percentage of 50.
• Modified courses (11, 21, 31 and 10 A, 20 A, 30 A) can be used to fulfill requirements in the required courses of study, specified areas of study and electives.
• Locally developed courses (designated with an L) may be used to meet elective requirements only.
• Graduation requirements are minimum requirements for Grade 12 standing. Students may choose to exceed these requirements.
• This credit requirement change came into effect for students graduating in the year 2000.
*Science 20 or 30 prerequisites must be met unless the student is an adult by definition of The Education Regulations, 2019.
For more information on a provincial curriculum for Pre-Kindergarten to Grade 12, please see the Ministry of Education Saskatchewan Curriculum.