​
Balfour Arts Collective is an innovative high school program for students who are passionate about the arts. Dancers, actors, artists, musicians and performers build their artistic and academic skills while earning credits towards their high school graduation.
Focus on the artistic area of your choice: dance, drama, and/or visual art
Receive training from specialized teachers, within the school and the arts community
Participate in performance and artistic sharing opportunities
Experience travel opportunities to New York or other artistic centres
Collective students embrace all artistic opportunities regardless of their skill level and personal experience. The program fosters a sense of belonging that enables students to take risks, feel empowered, and engage confidently. As part of Regina Public Schools, Balfour Arts Collective believes that students who are engaged in their learning will achieve greater success.

If you are a student who is passionate about the arts -- whether that is dance, drama, visual art, or more generally, performing arts, Balfour Arts Collective is the program for you.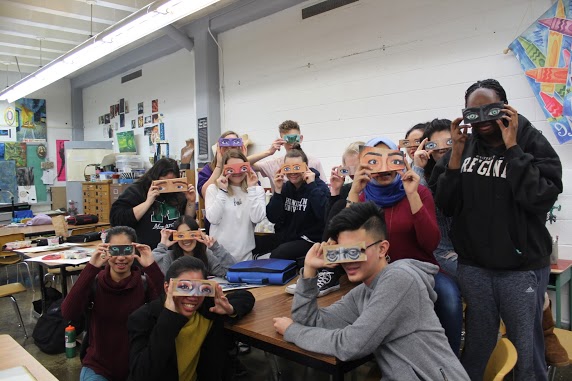 For the 2019-2020 school year, they will be accepting students enrolling in Grade 9. Applicants may apply as of January 1, 2019. Students do NOT have to live within Balfour school boundaries to attend this program. All prospective Grade 9 students in Regina and area are eligible.
Students entering BAC will choose an arts focus area. Each focus area has slightly different course offerings:
1) Dance focus 2) Drama focus 3) Visual Art focus
At all grade levels, students have the opportunity to meet curricular outcomes with an academic and artistic focus to show what they know through the passion area of their choice. To see the classes students will take, please click here.
Students currently training in an area of the arts will find this program enriches their artistic skills. Teachers and guest instructors with specialized knowledge may support any outside training in which the student is involved.
In their Grade 12 year, Collective students will have the opportunity to travel to New York, Montreal, or Toronto, and participate in workshops and events centered around their arts focus.
The program fee is $200.00 per school year. This fee covers the cost of guest teachers and experts in the field, alternate facility spaces, and field trips to arts-related experiences.
For more information, please CLICK HERE to visit the Balfour Collective Arts website.