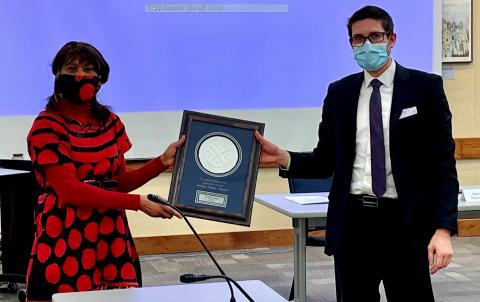 FEBRUARY 25, 2021 -- At the meeting of the Regina Board of Education on February 9, 2021, current trustees personally thanked former trustee Dr. Jane Ekong for her eight years of service with the Board, and Chairperson Adam Hicks presented her with a plaque.
Trustees who worked with Jane, as well as the new trustees to the Board, spoke about her many accomplishments, both in her personal and professional life. They also noted her contributions to public education and for the benefit of Regina Public Schools students and employees.
The Regina Board of Education has plans to similarly honour four other former trustees. Unfortunately, because of COVID-19 restrictions, the scheduling of visitors to the closed meetings has proven challenging. Future board agendas will announce when the other trustees will be honoured.
To watch a recording of the presentation (starting 45 minutes into the meeting), please go to https://mediaspace.rbe.sk.ca/media/February+9%2C+2021+Board+Meeting+Live/1_rkk19g4g/100859152.