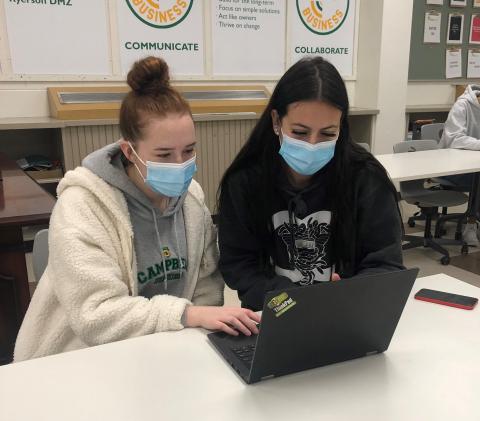 NOVEMBER 25, 2021 -- Campbell Collegiate's Business program created online games and activities to engage the community in all topics relating to money and financial literacy. They will be sharing the links via emails, social media and student announcements each Monday in November for #MoneyMondays.
Financial Literacy 30 students created activities for Campbell homeroom classes (Grades 9 to 12), including topics such as credit cards, "Buy Now, Pay Later," student loans, investing, filing personal taxes and tracking spending. Financial Literacy 20 students created activities for some of Campbell's associate schools (Grades 6 to 8), focusing on basic money topics such as opening up a bank account, needs versus wants and saving money. The students are so excited to share their work and research in the hopes of educating as many students as possible.
For additional financial literacy resources for teachers, check out https://saskmoney.ca/ (middle years and high school lessons and information) or follow the Financial Consumer Agency of Canada on social media. If any RPS teachers would like to play these online games, please contact Jill Labas.
Happy Financial Literacy Month!